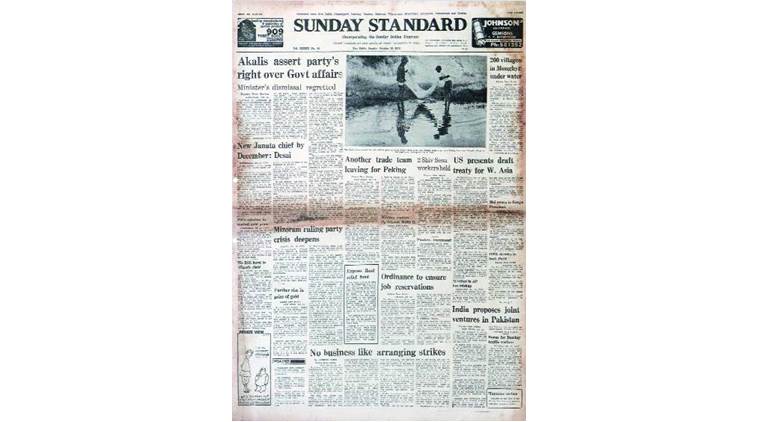 October 15, 1978, Forty Years Ago
Reservation in Bihar
Bihar government decided to promulgate an ordinance to vest the administration with statutory power for ensuring implementation of the provision for reserving jobs for the Harijans and Adivasis in accordance with the quotas fixed for them. The ordinance seeking to replace the executive order in force provides for reservation of 14 per cent of government jobs for Harijans and 11 per cent for Adivasis. Those violating the provisions is punishable with imprisonment up to three months and or a fine up to Rs 1,000.
New Janata chief
A new president of the Janata Party will be elected before December, Prime Minister Morarji Desai said in Ahmedabad. He told the workers that the different constituents of the Janata Party had started coming closer and there would be complete integration of the party with the organisational election in December.
India-Pak ventures
India proposed setting up of joint ventures in Pakistan so that produce from them can be exported to India and thus help balance the trade between the two countries. An Indian trade delegation, led by the commerce secretary, C R Krishnaswamy Rao Sahib, had suggested during its discussions in Islamabad that a fertiliser plant could be set up in Pakistan with gas as feedstock. The Pakistani authorities appeared to be receptive to the proposal, according to the Indian trade delegation.
RSS & Aligarh riots
A Janata Party fact-finding team has suggested a judicial inquiry into the riots in Aligarh. Party president, Chandra Shekhar, said the three-member team, comprising of Krishna Kanth, Abdul Hamid Rahi and M R Krishna, had not found any truth in the allegation that the RSS had engineered the riot in the city. Chandra Shekhar said in the changed situation the RSS leaders were not interested in inciting communal trouble.