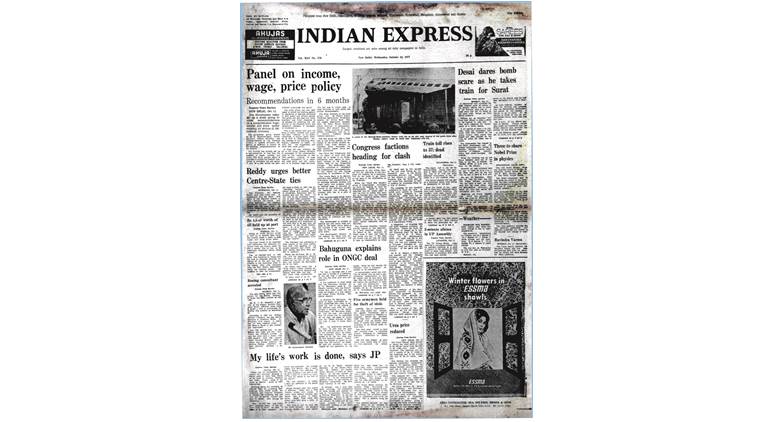 October 12, 1977, Forty Years Ago: JP Turns 75
On the 75th birthday of Jayaprakash Narayan, streams of people, some of them from states as far away as Andhra Pradesh and Tamil Nadu, came to his house at Kadam Kuan, Patna to offer felicitations. Hobbling along the corridors, he received them all, accepting their greetings with folded hands. His simplicity and humility completely masked the crusading zeal and iron will he showed himself capable of before and during the Emergency. "How do you feel today, sir?" newsmen asked. "I feel my life's work is done," he said. "I think it is their (people's) love, which has sustained me through disease and debility. May I continue to deserve their affection. If by God's kindness I am able to live longer I shall try to serve my country and my people to the best of my ability." "On this occasion," he added, "I send my greetings to the people of India."
Panel On Wage Policy
The government set up a study group to make recommendations on a comprehensive wage, income and price policy covering all sectors of the national economy. The six-member group, headed by S. Bhoothalingam, former economic affairs secretary and director-general of the NCAER. It is expected to submit its far-reaching recommendations in six months. The cabinet has already set a sub-committee to look into the question of wages, incomes and prices.
Morarji And Security
A determined and unruffled prime minister, Morarji Desai, brushed aside all advice of top security officers not to travel by the Frontier Mail due to a bomb scare and left for Surat by the same train, though an hour behind schedule. Officials, got an emphatic "no" when they offered to place a plane at his disposal to take him to Ukai for the inauguration of a power station. Two anonymous telephone calls were received by the police control room saying that bombs had been planted on the train by which Desai was to travel.