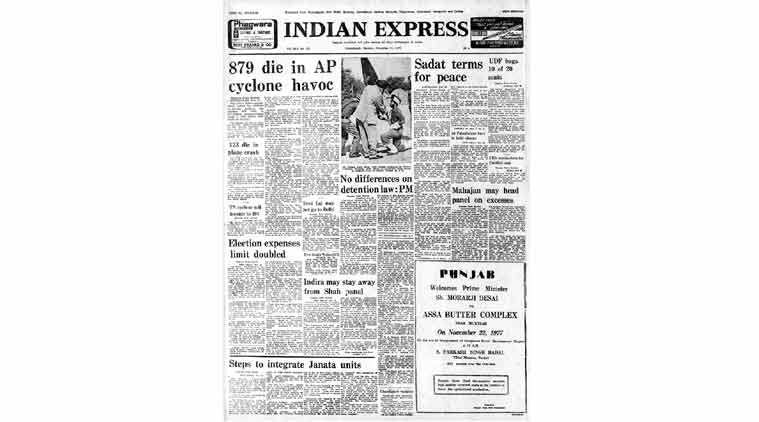 November 21, 1977, Forty Years Ago: Janata brainstorming
The two-day "brainstorming session" of the Janata Party members, organised by Piloo Mody and others, recommended ways and means to bring about complete integration of the constituent groups of the Janata Party. Some of the major recommendations are: The retrograde quota system in the important bodies of the party and the government should be scrapped. The determining factor should be the merit of the individual and his record of public life rather than his past association with one of the constituents, or other narrow considerations; the party membership drive should be taken up vigorously so that party elections are held in May as scheduled; the goal of a unified Janata Party, as distinct from a confederation of constituent groups, should be pursued; and the voice of party workers regarding the genuine grievances of the people should be heard.
Shah Commission
The Shah Commission completed the preliminary work for the questioning of former prime minister, Indira Gandhi. But reports indicate that she may stay away. The Commission has asked at least three ministers of Mrs Gandhi's cabinet, T.A. Pai, H.R. Gokhale and D.P. Chattopadhyaya to be present during her examination. They had given evidence before the Commission attributing certain decisions to Mrs Gandhi, about which Justice Shah would like to question her. Another minister, C. Subramaniam, had also been asked to appear before the Commission, but he pleaded inability to do so saying it was imperative for him to visit his cyclone-hit constituency in Tamil Nadu.
Cyclone in AP
A killer cyclone that lashed five coastal districts of Andhra Pradesh has claimed 879 lives. The highest toll was in Guntur district, which accounted for 628 deaths, followed by Krishna district with 223. Meanwhile, the death toll in the last week's cyclone in Tamil Nadu has risen to 407.