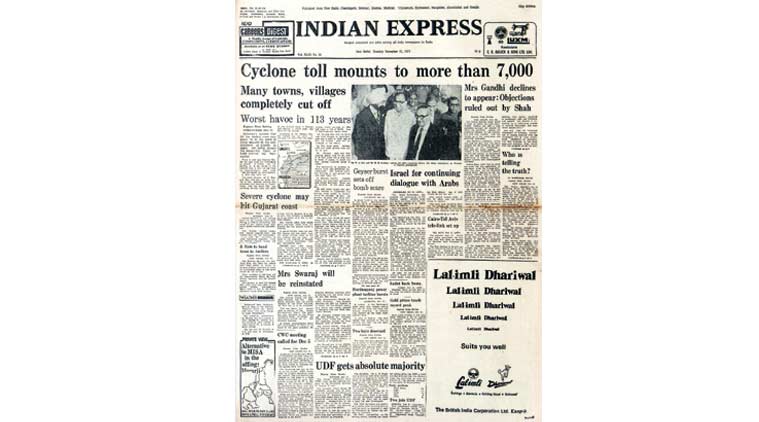 November 21, 1977, Forty Years Ago: Cyclone toll rising
Reports from Andhra Pradesh put the toll in the cyclone at over 7,000. There is wide apprehension that it may cross 10,000 as reports of death continue to pour in. A big chunk of the affected area is still cut off from all communications and when these are opened up, more harrowing facts may come out. Chief Minister Rao told reporters at Vijayawada that the death toll was anything between 5,000 and 6,000 in Krishna and Guntur districts alone. According to Rao, this was the worst cyclone in the past 113 years. The last major cyclone was in 1864, which caused the death of 35,000 people in Machillipatnam region alone.
Shah panel no show
Indira Gandhi failed to show up before the Shah Commission. Instead, she sent a long statement through her counsel in which she protested against the procedure followed by the Commission and even charged that its setting up was politically motivated. Mrs Gandhi's statement, which was read out said, that no useful purpose would be served by my participation in the proceedings. She said she would appear as witness if the Commission decided to hold the inquiry "in accordance with law" and she was given the opportunity to produce evidence, engage lawyers and cross-examine witnesses. Justice Shah ruled that he could not grant her this opportunity at this stage. An unruffled Justice Shah, replying to the objections, observed that it was of no consequence to the Commission if someone declined to come. Once he came to the conclusion that prima facie evidence existed, he would form his own conclusions.
Sushma to return
Mrs Sushma Swaraj, the Haryana minister who was summarily dismissed from the cabinet recently by the chief minister, Devi Lal, is to be reinstated. This was learnt after a meeting of the Janata Parliamentary Board. The meeting was convened at the prime minister's house to resolve the controversy.