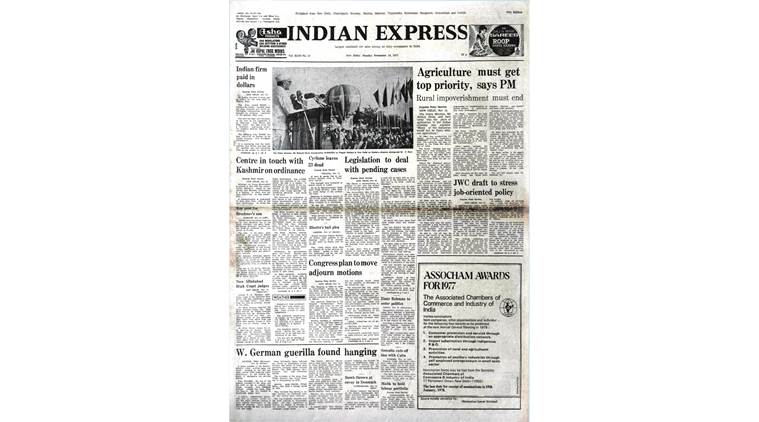 November 14, 1977, Forty Years Ago: Morarji's Agri Speak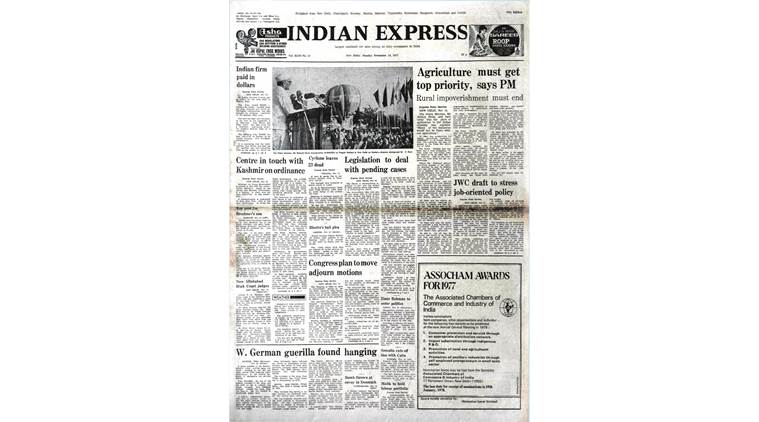 Morarji's Agri Speak
Prime Minister Morarji Desai said the place of agriculture in the Indian economy was supreme. "Many of the industries would not be there without agriculture," Desai said at the inauguration of AGRIEXPO 77 in Delhi. The PM said India had a rural civilisation. "If rural areas are rich, urban areas are bound to be all right. But if all attention goes to the urban areas the rural areas will get impoverished." Despite the important position agriculture enjoyed in the national economy, he said, its development had not received the attention it deserved. He said it was the government's firm decision to retrieve its position and give agriculture and rural development the priority they deserved.
Tamil Nadu Cyclone
At least 23 people died in cyclonic rains in Thanjavur district, Tamil Nadu. The damages were estimated at several crores of rupees. M. G. Ramachandran, Tamil Nadu chief minister, said at Trichy airport that rescue operations were being initiated on a war-footing. He said the government was trying to requisition helicopters from Cochin, Hyderabad and Jamnagar for relief operations.
Ziaur Rahman's Plan
Bangladesh's military ruler, President Ziaur Rahman, is reportedly contemplating joining politics and involving politicians in his government in a bid to restore democracy by next year. Zia told BBC that he was thinking of going into politics. When BBC correspondent Mark Tully asked whether he (Zia) intended to return to the army, the president replied, ''Well, some people have told me I should join politics and I am thinking."
Bhutto's Plea
Former Pakistan premier Zulfikar Ali Bhutto appealed to the Supreme Court to be released on bail while he stands trial for murder. The court, which three days ago rejected an earlier petition, agreed to hear the application on November 27.