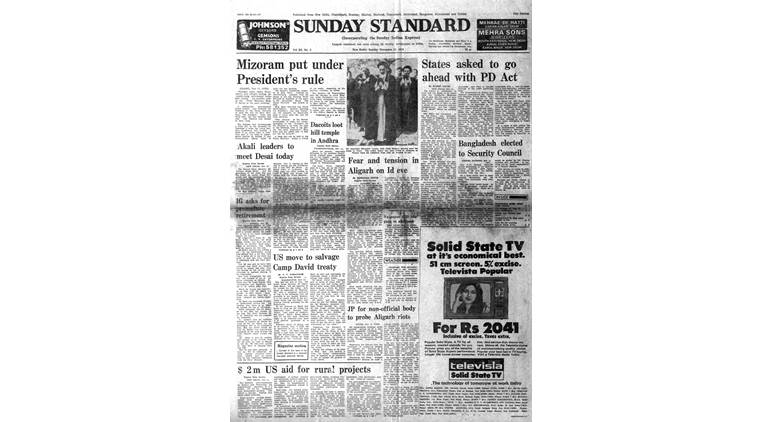 November 12, 1978, Forty Years Ago
President's rule
Mizoram came under President's rule ending the month-long ministerial crisis and nearly six-month rule of the chief minister, T Sailo, at his own volition. A presidential proclamation issued on the night of November 11 also dissolved the Assembly of the Union Territory to pave the way for early elections. The Assembly came into being after the May elections this year. The Ministry was formed in early June. The Cabinet had recommended a fresh poll to the Assembly on November 4 when the ruling People's Conference had reached a point of no return after it vertically split in the wake of organisation's election on October 11 and reconciliation efforts failed to unite the two factions. The People's Conference which returned 23 members of the party to the 30-member House in the last state elections.
PM-Akali meet
Punjab Chief Minister Parkash Singh Badal and the presidents of the Akali Dal and the SGPC, Jagdev Singh Talwandi and Gurcharan Singh Tohra, respectively, will meet Prime Minister Morarji Desai on November 12 for talks on the differences arising between the Akalis and the central government over the Nirankari issue. Biju Patnaik, Union steel minister, who is playing a key role in sorting out the differences, spoke to Badal to discuss the meeting
Aligarh tense
Numbed by the worst communal killings in living memory, the people of Aligarh wait tearfully to see what Id-ul-Zuha brings. There was an air of foreboding in strife-torn Aligarh on the eve of Id, as the festival has arrived at a time when fear and tensions are at their height. There is apprehension that the celebrations around Id may provide occasion for the renewal of the carnage which has claimed 30 lives in five weeks. Fourteen persons were killed last month, and the toll of this month's incidents rose to 16 with the discovery of yet another body.