November 10, 1977: Forty Years Ago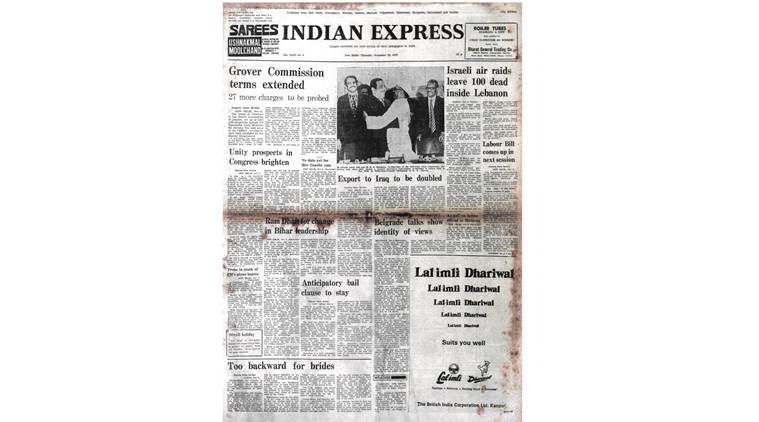 Israel Bombs Lebanon
Israeli air raids ranged deep inside Lebanon and reports from Beirut said the known death toll neared 100. About 50 people died in Azziyeh, nine km from the frontier, where six Israeli jets screamed down at breakfast time. Not a house was left intact after 30 minutes of bombing. Rescuers clawing at the smoldering rubble told the Reuter correspondent that total dead and wounded stood at around 100. Witnesses at Borj El Shemali Palestinian refugee camp, near the Port of Tyre, said at least 30 died there. Long-range Israeli artillery joined in hitting targets near Tyre, in a bombardment which the Jewish state said was retaliation for rocket attacks on its resort of Nahariya, just down the Mediterranean coast. Diplomats in Beirut said the Palestine commandos were believed to have a training camp near devastated Azziyeh. Beirut radio said Israeli gunboats shelled targets around Tyre. The town was paralysed. Shops closed and streets filled with civilians fleeing the bombardments. Many were evacuees from villages which had come under Israeli artillery fire.
Urs Investigation
The terms of reference of the Grover Commission of Inquiry, set up to probe the allegations against Karnataka chief minister Devraj Urs and some of his cabinet colleagues, have been extended by the Central government. The allegations relate to excess and improper payments, irregularities and undue payments, irregularities and undue favours in relation to contracts, disposal of land sites, purchase of furniture and disposal of foodgrains. The appointment of the Commission, under Justice A.N. Grover, a former Supreme Court judge, was also upheld by the Supreme Court by a majority of six to one.
Anticipatory Bail
There is no move yet to withdraw the provision relating to the granting of anticipatory bail. Prime Minister Morarji Desai said at a meeting of the Janata Parliamentary Party.