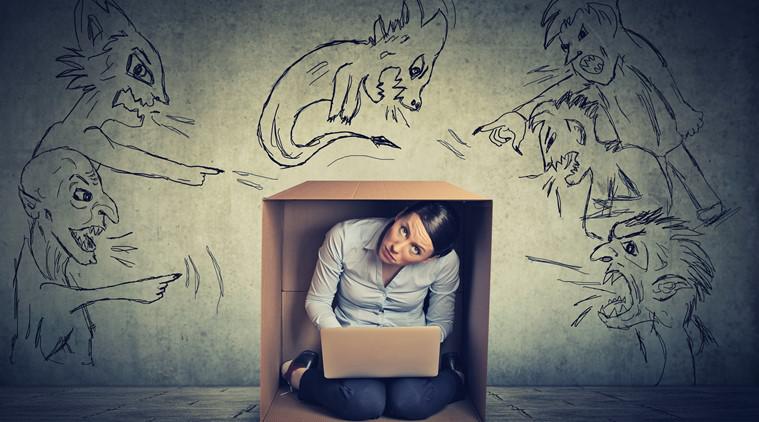 Misogyny, sexism, threats: Women fight it all online too
A web column in 2013 began with the Austen-esque, "It's a truth universally acknowledged that a woman in possession of an opinion and a computer will cop a heap of sh*t. Insults, personal attacks and threats of physical violence are par for the course" [cited in Misogyny Online: A Short (and Brutish) History by Emma Jane]. A woman who dares to have an opinion and broadcast it too, is highly likely meet with the e-bile of denizens who target their vicious abuse with the aim to 'put her in her place' and see her silenced.
On the evening of August 4, The News Minute editor-in-chief Dhanya Rajendran's 'provocation' was to speak her mind like any ordinary member of the audience about the latest Bollywood soppy rom-com Jab Harry Met Sejal and make a passing comparison to another film she didn't like — a seven-year-old Tamil film starring actor Vijay. The tweet was met with vicious keyboard-bashing by mostly young, male fans of Vijay over a span of next four days, featuring the notoriously trending "#PublicityBeepDhanya" on Sunday. The abusers (not trolls), ganged up like an online lynch mob and hurled abuse and sexualised vitriol filled tweets at her. Their collective tweet count exceeds a staggering 35,000 over the last four days and has still not stopped completely. Speaking to the Indianexpress.com, Rajendran marvelled at how so much energy could be spent in the effort to pour misogynistic cyber hatred on her.
Journalists all over the world are used to being lampooned and lambasted over the internet by those who do not agree with their work and this includes personal attacks. But "if you are not being called ugly, fat, and slutty on the internet, odds are you're a man. Or a woman pretending to be a man," writes Jane, the author of Misogyny Online. Even when men are viciously attacked online, the threats are made to the female members of his family, to effectively emasculate him. A 2014 study by the Pew Research Center showed that men are more likely to receive milder forms of abuse such as name-calling and embarrassment. Women, in contrast, are particularly vulnerable to more severe and vicious forms of abuse such as sexual harassment, stalking and rape threats. 
Owing to the nature of such threats, women are susceptible to greater demoralisation, even if they usually pull up a thick skin and move on. "The last four days, I have been extremely stressed," says Rajendran who went through the laborious motions of filing an FIR on Tuesday. "Earlier I was sort of floating, knowing it was bad. But only when I had to go through them all to pull out the worst, did it sink in to me how bad it actually was," she shared.
"The easiest way to try to shut up a woman is to indulge in her character assassination. This is true across professional spectrums, but especially for women who come into the public space. Take the example of the Chandigarh stalking case or Gurmehar Kaur," says Priyanka Chaturvedi, whose position as the spokesperson of Congress Party makes her a constant target for social media abuse. She has had to report rape and death threats made to her online in the form of FIRs in the past. "For a society that is in transition, that is male dominated — patriarchy comes easy. This was difficult to see on conventional media channels but you have an open platform now," she says.
Dr. Anja Kovacs, Director of the Internet Democracy Project and researcher of cyber trolls, points out that the sort of abuse that women receive on Facebook and Twitter are connected with norms of policing women. "They are ways of getting women out of the public sphere. It is not just about agreeing or disagreeing, it is about policing whose voice will be heard and who is accepted as a legitimate participant," she said in an interview with the Internet Democracy Project.
Much of the abuse that takes place on the internet is a reflection of the structures of oppression in the real world, such as sexism, racism and hatred based on religion or plus-size bodies. Men, for instance, are not traditionally shamed for promiscuity. There is no male version of the word "slut" and if any, it does not carry the same derogatory connotations. "Misogyny hasn't gone, sexism hasn't gone. It is only becoming more rampant and with people expecting us to turn a blind eye to it is only ignoring the problem or brushing it under the carpet," says Chaturvedi.
© IE Online Media Services Pvt Ltd