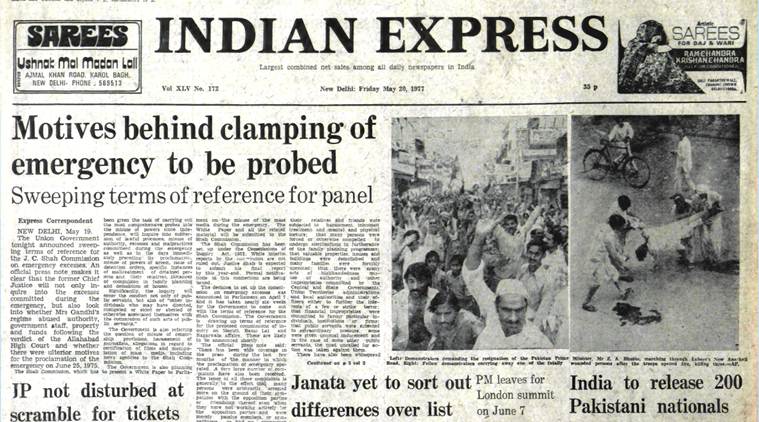 May 20, 1977, Forty Years Ago: Shah Commission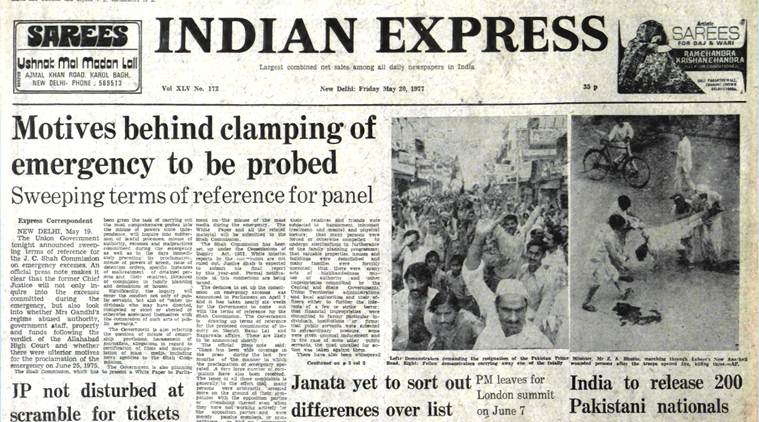 The Union government announced sweeping terms of reference for the J.C. Shah Commission on Emergency excesses. The former chief justice of the Supreme Court will not only inquire into the excesses committed during the Emergency, but also look into whether Mrs Gandhi's regime abused authority, government staff, property and funds following the verdict of the Allahabad High Court and whether there were ulterior motives for the proclamation of the Emergency on June 25, 1975. The Shah Commission, which has been given the task of carrying out the most comprehensive probe into the misuse of power since Independence, will inquire into subversion of lawful processes, misuse of authority, excesses and malpractices committed during the Emergency as well as in the days preceding its proclamation, misuse of powers of arrest, issue of detention orders, instances of maltreatment of detained persons and their relatives, compulsion in family planning and demolition of houses. The government is also referring misuse of censorship provisions, harassment of journalists, allegations in regard to certification of films and manipulation of mass media to the Shah Commission.
Pak Prisoners Freed
India unilaterally decided to release nearly 200 Pakistani nationals detained in India on various charges. The government came to this decision in view of slow progress in the exchange of post-1971 detainees agreed on by the two countries in May, 1976.
Delhi's No To ACs
The Delhi administration issued an order prohibiting the use of electricity for neon signs, advertising, the display of goods, marriage illumination and AC units. The order, imposed because of the power crisis in Delhi, states that a violation will be punished by cutting off electricity supply to consumers for four days. Subsequent contraventions will result in discontinued electricity supply.