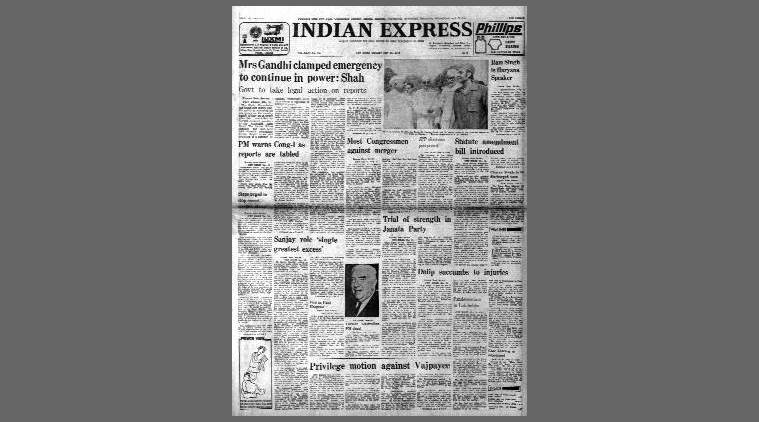 May 16, 1978, Forty Years Ago: Shah indicts Indira
The Shah Commission found Indira Gandhi guilty of clamping an Emergency on the country simply to stay in power after her conviction for corrupt electoral practices by the Allahabad High Court. The former prime minister has also been held directly responsible for the illegal arrest and detention of a number of persons, "motivated solely by desire to continue to remain in power". The Union government has accepted in full the findings of the commission and decided to initiate legal action after careful examination of each individual case. In two interim reports tabled in Parliament, the Shah Commission has outright rejected Mrs Gandhi's contention in her letter to the President on the night of June 25, 1975 that internal disturbances posed "an imminent danger to the security of India". It says, the imposition of Emergency was a political decision "taken by an interested prime minister in a desperate endeavour to save herself from the… judicial verdict against her".
Cabinet Not Told
The chairman of the commission, Justice J C Shah, retired chief justice of the Supreme Court of India, has found no evidence of circumstances to warrant imposition of an additional Emergency. The commission has said it had enough evidence to show Mrs Gandhi had planned the imposition of Emergency as early as June 22. But she kept the cabinet deliberately in the dark till the morning of June 26. Her excuse to the President that she could not take the cabinet into confidence for want of time was therefore a falsehood.
Sanjay's Excesses
Sanjay Gandhi's actions as overlord of public affairs in Delhi constituted the "single greatest act of excess committed during the Emergency", says the Shah Commission in its report. "Here was a young man who literally amused himself with demolishing residential, commercial and industrial buildings.
Karnataka Election Results 2018

– Follow The Indian Express

live coverage

on

Congress-JDS Government Alliance in Karnataka

and real-time updates at indianexpress.com