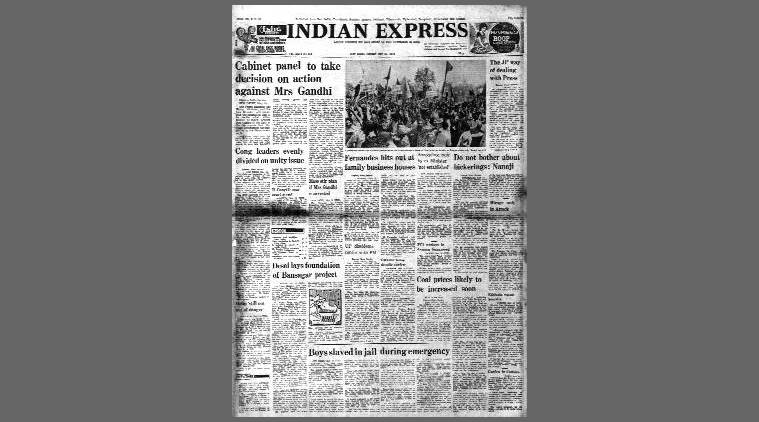 May 15, 1978, Forty Years Ago: Handling Mrs Gandhi
The prime minister, the home minister and the law minister will constitute the committee that is to decide what action should be taken against Indira Gandhi in the limelight of the two reports that the Shah Commission has submitted to the government. The Cabinet, which gave this authority to the Cabinet committee the other day, was very particular that all legal and other matters be gone into thoroughly before moving against Mrs Gandhi. The ministers made no bones about the fact that they did not want the repetition of the same "bungling" that took place on October 3 when Mrs Gandhi was arrested and later released by a magisterial court. The Cabinet also wanted some eminent lawyers to be consulted in processing action against Mrs Gandhi. The law minister is believed to have said at the Cabinet meeting that he or his junior minister was never consulted before effecting the arrest of her. The home minister was not present at the meeting to tell his side of the story.
Congress-I strategy
The Congress-I Working Committee had prolonged discussions on the steps to be taken in the party in the event of Mrs Gandhi's arrest in the future. Mrs Gandhi presided over the meeting, which was attended among others by pradesh chiefs and leaders of the Congress-I legislature party in the states. The meeting is understood to have worked out a programme of mass agitation throughout the country if Mrs Gandhi is arrested. The programme of action is to be drawn up at national, state and district levels.
Old Cong Divided
The Congress leadership is reportedly divided on the issue of unity with the Congress led by Indira Gandhi. This explains why the Congress Working Committee could not finalise the draft resolution to be placed before the two-day national level "political conference".