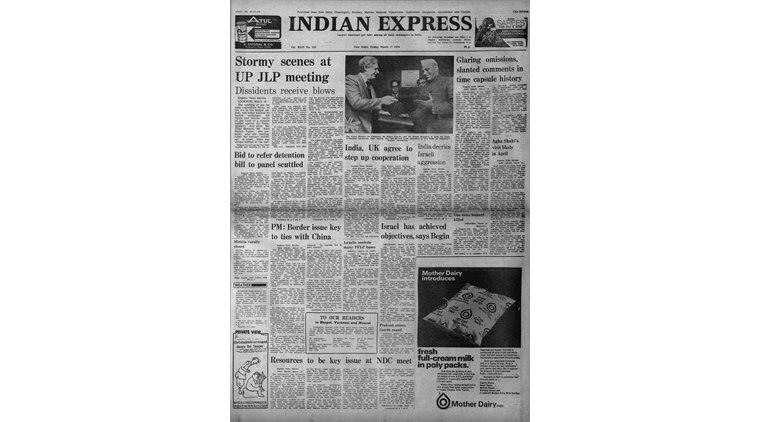 March 17, 1978, Forty Years Ago: Janata's UP bedlam
The meeting of the Janata Legislature Party in Lucknow, on the eve of the budget session, was marked by heated exchanges, fist fights and stormy scenes on the issue of a censure motion against the Yadav ministry. When Uttar Pradesh Chief Minister Ram Naresh Yadav, who presided over the meeting, ruled the censure motion out of order, there was bedlam in the hall. Slogans for and against the CM and demands for the resignation of the Ministry and counter-demands for the expulsion of dissidents resounded for at least 10 minutes. When order was finally restored with great difficulty, the dissident leaders pressed that if their motion was not being take up, they should at least be allowed to express themselves. Tension continued even after the meeting was adjourned amid accusations of communalism and corruption by dissident leaders, who said the CM was forcing them to carry the fight to the floor of the House.
Detention debate
Agitated members of the Janata Parliamentary Party, which continues to be sharply divided over the government's Preventive Detention Bill, effectively scuttled a move to refer the measure to a party committee. The move made at the meeting of the JPP was aimed at taking the controversial bill out of the charged atmosphere prevailing in the party and smoothening its adoption by the party. Hardly had Prime Minister Morarji Desai accepted the suggestion to refer the Bill to a committee, when members shouted that the Parliamentary Party must discuss the bill.
Strike success: Israel
The Israeli Chief of Staff, General Mordechai Gur, announced that "the essential operations confided to the Israeli army in southern Lebanon" had ended. Israeli Prime Minister Menachem Begin, said that Israel had achieved the objectives of its massive strike against Palestinian guerillas in southern Lebanon by nightfall.