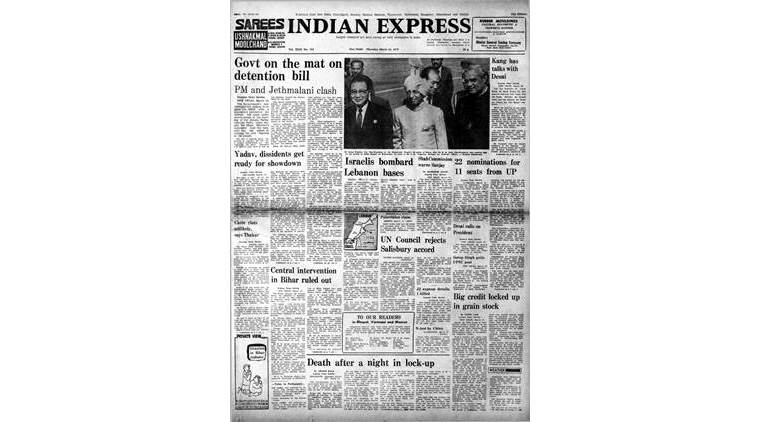 March 16, 1978, Forty Years Ago: Govt On Mat
The government's controversial bill seeking to replace the MISA with a permanent preventive detention law came under severe attack at the meeting of the Janata Parliamentary Party despite the home minister's assurance that the measure was not aimed at curbing the civil liberties of the people. The JLP is meeting again tomorrow to consider the bill, but if today's deliberations are any indication, the party managers will have to work hard to line up the members behind the government on the Issue. The Janata government is committed to repealing the MISA. The bill, which it introduced in the last session of Parliament and is yet to be passed, does provide for scrapping the MISA. But at the same time it seeks to add such clauses to the Criminal Procedure Code as would bring preventive detention law permanently on the statute.
Janata vs Janata
The stage is set in Lucknow for a showdown between UP chief minister Ram Naresh Yadav's ministry and dissidents in the Janata Party at the Legislature Party meeting. A signature campaign was initiated by Yadav to counter the move of the dissidents to have the party censure the government. With growing confrontation, there was feverish activity with both factions claiming majority in the party. Signatures are being collected to endorse the chief minister, extol the activities of his government and censure the dissenters. The latter, on the other hand, held a series of meetings and finalised a 16-point "chargesheet" against the ministry.
Israel Invades
Israel fighter bombers pounded the southern fringes of Beirut as a vast invasion by land, sea and air spread from the southern border regions to the heartland of Lebanon. Eyewitnesses reported that two Israeli combat aircraft bombed the Ozai area near Beirut international airport, flattening a dozen houses in a residential district on the seaside.