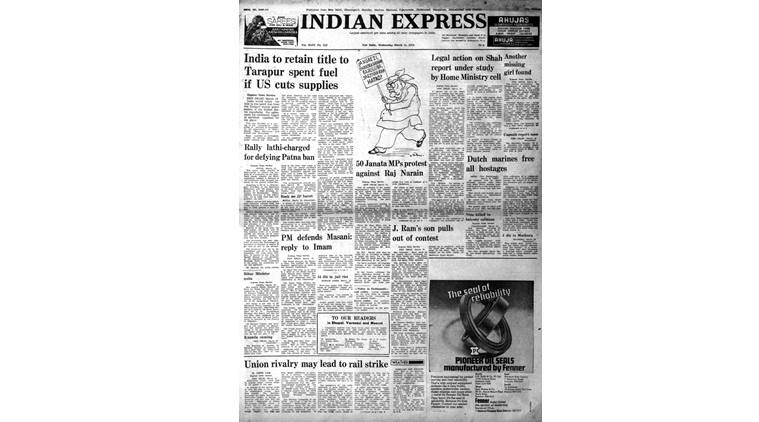 March 15, 1978, Forty Years Ago: Action On Report
A special cell of the home ministry is looking into the feasibility of prosecuting Mrs Gandhi in connection with some of the 11 cases in which she has been indicted by Justice Shah in his inquiry report to the government. The 350-page report, which was formally handed over to the home ministry on March 13, deals with the commission's findings on 21 cases. In 11 cases, Mrs Gandhi has reportedly been found to have been directly or indirectly involved in "gross misuse of power". The report is not interim but the conclusive findings of the commission in regard to this first batch o f 21 cases. In two other cases concerning misuse of the media — for alleged employment of AIR and DAVP staff for translating the Congress manifesto and printing of Congress posters — the commission has yet to give its final verdict.
Janata Against Raj
Over 50 members of the Janata Parliamentary Party are reported to have signed the letter, which Ram Dhan wants to present to the prime minister tomorrow, protesting against Raj Narain's statements criticising the party leadership. Although the March 15 meeting of the JPP has been summoned to discuss the Lokpal Bill and the government's move to make preventive detention a permanent feature, some Janata members are planning to raise the issue which continues to be discussed in the party.
PM Defends Masani
Prime Minister Morarji Desai has justified Minoo Masani's appointment as head of the Minority Commission. Desai has done so in reply to a letter by the Shahi Imam of Jama Masjid, Syed Abdulla Bukhari, in which the imam raised objections over the constitution of the commission.
Time Capsule
The education minister, P C Chunder, will report in Parliament the contents of the time capsule buried in front of the Red Fort in 1973.