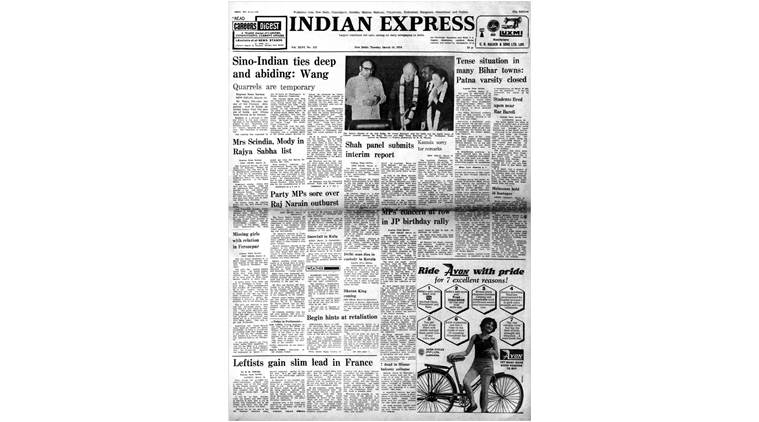 March 14, 1978, Forty Years Ago; Hindi-Chini Bhai-Bhai
Wang Pin-nan, leader of the Chinese delegation now in India, asserted that the people of India and China were bound to be friends. Speaking at a meeting in the Parliament House annexe, he said: "Sometimes even brothers quarrel. But brothers are brothers. Quarrels are temporary. Our fraternity is everlasting." The meeting was organised by the Dr Dwarkanath S Kotnis Memorial Committee. The Chinese leader said he was convinced that the seeds of friendship sown by Kotnis would bloom.
Janata RS List
Vijayaraje Scindia, Piloo Mody, Surendra Mohan, Ghanashyam Das Oza and B D Khobaragade prominently figure in the list of candidates finalised by the Janata Party's parliamentary board for this month's Rajya Sabha elections. Others who have got the Janata ticket are Jagannath Rao Joshi, former member of the Lok Sabha, and Swarup Singh, former vice-chancellor of Delhi University.
Narain's Outburst
The Union Health Minister Raj Narain's outburst against the Janata leadership has caused much resentment in party circles, who feel that if such tendencies were not checked they would encourage factionalism. Narain's remarks in Lucknow were the subject of animated discussion among Janata Party members in Parliament lobbies. Many of them viewed it with great concern. Several members referred to his closeness to Home Minister Charan Singh and how BLD and Jana Sangh had been functioning in close liaison within the party. Some even pointed out how casteism was being exploited.
Kaunda's Regret
The Zambian President, Kenneth Kaunda, has written a letter to Prime Minister Morarji Desai and has expressed his ''sorrow and sincere regrets" for the embarrassment that the letter of his prime minister, Mainza Chona, to the Times, London, had caused to India.