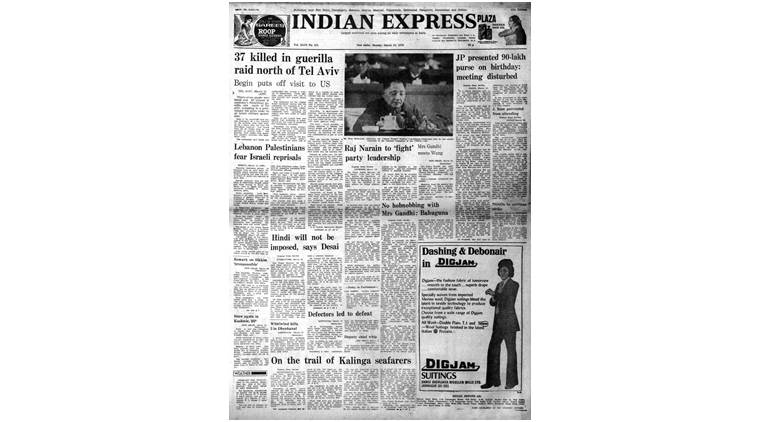 March 13, 1978, Forty Years Ago; Tel Aviv Attack
Thirty-seven people were killed and 82 injured in a Palestinian guerilla raid north of Tel Aviv, according to a preliminary toll given by an Israeli military spokesman. Most of the casualties were among passengers on a bus hijacked by the guerillas after they landed on a beach near the busy Tel Aviv-Haifa highway. The others were hit by bullets fired by the guerillas at passing traffic. The guerillas were armed with bazookas, mortars, grenades and automatic rifles.
Janata War
The Union Health Minister Raj Narain shot the first salvo against the leadership of the organisational wing of the Janata Party by demanding an enquiry into the handling of the party affairs. Addressing newsmen at the residence of the Uttar Pradesh chief minister, he lambasted the leadership without naming the party president, Chandra Shekhar, and declared that he would "fight them out". It became clear from the news conferences by CM H N Bahuguna and Narain that the cold war in the Janata Party was erupting into an open confrontation.
Hindi On Hold
Prime Minister Morarji Desai declared that there would no imposition of Hindi in so long as there was no national consensus on the issue. Addressing the concluding session of the first state-level conference of the Janata Party, Desai said he was confident that with the intensification of patriotic feelings, people would come to realise the need or a common language for the country.
Indira Meets Wang
Mrs Indira Gandhi had 30-minute close door meeting with Wang Pin-nan, leader of the Chinese goodwill delegation, at the Chinese Embassy in New Delhi. Emerging from the meeting Mrs Gandhi said: "I had a friendly exchange of views with Mr Wang. I knew Mr Wing when I went to China with my father. We were only reminiscing".