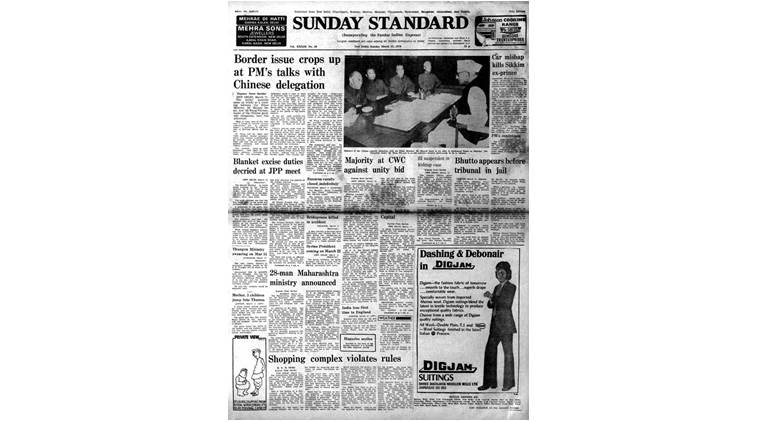 March 12, 1978, Forty Years Ago; India-China Talks
The border question came up briefly at a meeting between the Prime Minister, Morarji Desai, and Wang Pin-nan, leader of the Chinese goodwill delegation, in New Delhi. "Both of them were of the view that it should be resolved through negotiations' and by peaceful means," a spokesman of the Ministry of External Affairs said. Wang told Desai that "with patience, mutual accommodation and common understanding all problems can be solved." Desai said that "we are willing to improve relations and extend friendly contacts." The question came up after statements were made by both leaders affirming friendship between the two countries.
CWC Rejects Merger
The overwhelming opinion expressed at the Congress Working Committee meeting was that there should be no talk of unity with the Congress-I. Briefing newsmen after a six-hour CWC meeting, K C Pant, secretary, said the discussion clearly showed a "robust sense of self-confidence". He said most of the 23 speakers who spoke the need for preserving the party's identity.
Bhutto's Trial
The former Pakistan Prime Minister, Zulfikar Ali Bhutto, appeared before a special court in Lahore district jail at the start of his trial on political corruption charges. Bhutto, , was deposed in a coup last July. The former PM could not properly defend himself on new charges, while still under the threat of a possible death sentence in a murder trial. Judgment is expected within the next four days in a Lahore High Court trial in which Bhutto is accused of ordering a political assassination. The military regime had prepared six cases against Bhutto, including alleged rigging of elections March last year. The court was only half filled by lawyers and journalists. The public was barred from the proceedings. Defence counsel Yahya Bakhtiar, a former Attorney-General, objected to the trial taking place in jail and asked for it to be transferred to the High Court building the centre of Lahore.