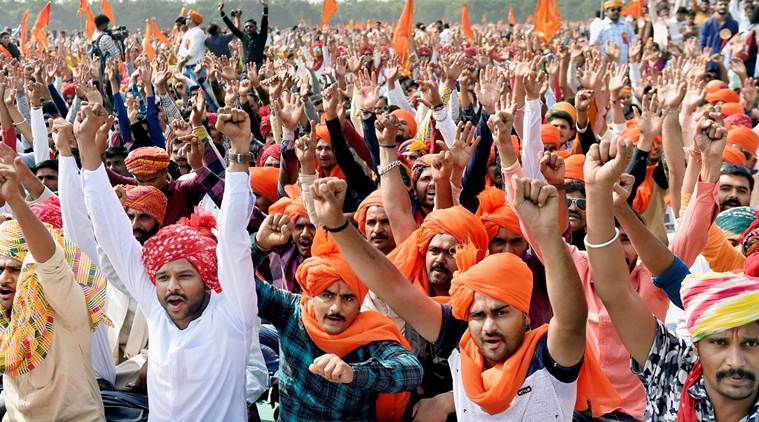 Karni Sena, the new celebrity
Jaise karni, vaise bharni: Since the controversy over Padmavati intensified over the past few weeks, that phrase has been running repeatedly through the mind like a song's refrain. Don't you think the Shri Rajput Karni Sena deserves as good — or as bad — as it gives?
Each time a Karni Sena member appears before the media, he claims that Sanjay Leela Bhansali's film is a "distortion of historical facts" — despite evidence to the contrary from people who have seen the film — we will come to that later. And, therefore, if the movie were to be released, without the Sena's approval, they say they will cut off actor Deepika Padukone's nose — she plays Padmavati.
Now, for argument's sake, say some people feel the same way about Sena leader Lokendra Singh Kalvi's nose, which they have had to see frequently, now that he is a star TV performer. Suppose they think his nose is a "distortion" of his facial features — should they also threaten to cut it off?
The Karni Sena has threatened a Bharat bandh on December 1 and violent protests which led to Padmavati's release being postponed. Its members have been hugely enjoying the current fame-shame game on TV, none more so than "Tamasha Talwar" on Times Now. Last week, he appeared with a sword in the studio which he proceeded to unsheath with great flourish and, mindful of the TV camera on him, gave it a menacing twirl, accompanied by some cutting remarks. When the anchor told him to stop all the "tamasha", he placed the weapon on his lap, a piercing look in his eyes.
Now, why doesn't the media declare a Karni bandh? Ban all its members from TV news studios, the front pages of newspapers until and unless they brush their teeth with Sensodyne, which if you have been watching the TV commercial for the toothpaste, promises to desensitise — in this case their mouths — and rid them of abusive germs? What traction will their incendiary and violent threats receive if the media windpipe is cut off?
Absurd, right? Of course, but none more so than the Karni Sena's constant ultimatums of violence which have led three CMs to ban the film in their states and other politicians to either oppose it or publicly flaunt bounty offers with impunity — and be TV's most wanted panelists.
Surajpal Singh Amu, Haryana BJP MLA, has offered up to Rs 10 crore for Padukone's and Bhansali's heads. He is now being courted by the media like he's Miss World. On Tuesday, he disported himself on People's Court (India Today), spewing venom and almost smiling as he clashed with anchor Padmaja Joshi, smug as a bug when she called out "goons" like him.
Why allow them so much TV time when they listen to nothing that TV says? For a change, all news channels have supported Bhansali and Padmavati in the "Fringe v/s Freedom" debate. TV's star anchors Rajat Sharma, Arnab Goswami and Zakka Jacob have watched Padmavati, courtesy Bhansali, and come away with rave reviews, although "I am not a film critic," admitted Arnab, modestly. Over the weekend, all three, on air, said the film is the "greatest ever tribute to Rajput" valour and Padmavati's "greatness" and that there is no "distortion" whatsoever of history in even a single frame.
But the Karni Sena persists; it insists there is a distortion of historical facts — without any of its members having seen the film.
So don't they deserve as good as they give?
By the way, there have been many historical TV series — Chakravartin Ashoka Samrat, Sher e Punjab Maharaja Ranjit Singh, Bharat Ka Veer Putra, Maharana Pratap and yes, even Chittod ki Rani Padmini Ka Johur (2009) to name a few — where history and melodrama were so intermingled that facts may have been ignored, embellished or changed. Next week, a new show, Porus, will go on air. From the promos, it looks like a great spectacle. Will anyone be able to vouch for the complete authenticity of each frame? They shouldn't have to: That's what we call artistic licence.
Licence to kill seems more like it, these days.
P.S. For the first time in 17 years, the last time we won the crown, didn't try to watch the Miss World Pageant live on Saturday. And what does Ms Manushi Chhillar go and do? She wins it for India. Maybe that's the secret of her success?
Just kidding.