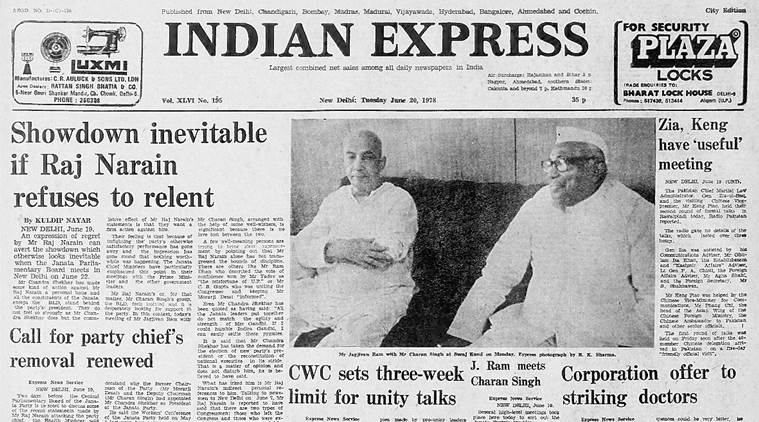 June 20, 1978, Forty Years Ago
Janata war
An expression of regret by Raj Narain can avert the showdown which otherwise looks inevitable when the Janata Parliamentary Board meets in New Delhi on June 22. Chandra Shekhar has made some kind of action against Narain a personal issue and all the constituents of the Janata, except the BLD, stand behind party president. They do not feel so strongly as Chandra Shekhar does but the cumulative effect of Narain's statements is that they want firm action against him. Their feeling is that because of infighting, the party's otherwise satisfactory performance has gone awry and the impression has gone round that nothing worth while was happening.
Unity talks
The pro-unity group in the Congress today succeeded in getting another three weeks to continue its efforts for bringing together the two congress parties. After another spell of discussions lasting four hours, the Congress Working Committee agreed to the plea made by pro-unity leaders that talk should not be abandoned at this stage. But the Working Committee made it clear that the efforts should not be allowed to prolong beyond three weeks. At the end of this period, the Congress Working Committee will meet again to take a "final view" in light of the position emerging at the time
Zia-King meet
The Pakistan Chief Martial Law Administrator, Gen Zia-ul-Haq, and the visiting Chinese Vice-premier, King Piao, held their second round of formal talks in Rawalpindi, Radio Pakistan reported. The radio gave no details of the talks, which lasted over three hours. Zia was assisted by his Communications Adviser Ghulam Isa Khan, the Establishment and Kashmir Affairs Adviser Lt Gen F A Chisti, Foreign Affairs Adviser Agha Shahi and the Foreign Secretary Shahnawaz.