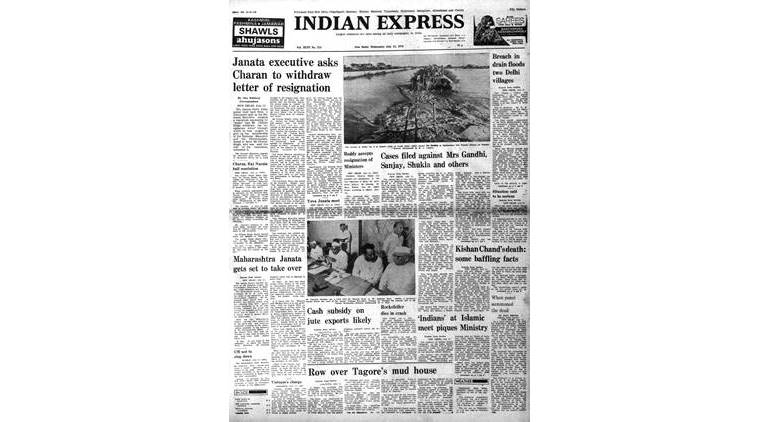 July 12, 1978, Forty Years Ago: Janata Outreach
The Janata Party pulled itself back from a threatened split as the national executive adopted a resolution expressing its "desire" that Charan Singh withdraw his "resignation letter". Singh had sought to give up the membership of the national executive and the parliamentary board in April. Charan Singh, who was sent the text of the resolution, welcomed it. The resolution was adopted after several hours of discussion, which led to changes in the original draft. Most members did not favour the suggestion that the national executive should make an "appeal" to Charan Singh. The word "appeal" was thus replaced with the milder "desire".
Cases Against Indira
The CBI special cell filed six cases, three of them against Indira Gandhi, for the excesses committed during the Emergency. Four of these are in the court of the chief metropolitan magistrate. Two of the cases come under Section 52 of the Prevention of Corruption Act and substantive sections of the IPC. They involve Gandhi, Shukla and the former chief ministers of some states, including P C Seth, Zail Singh, Harideo Joshi, and Delhi's former Lt-Governor Kishan Chand, who allegedly committed suicide on July 8.
Rockefeller dead
John Davison Rockefeller, the philanthropist who busied himself with Asia, population control and the performing arts died in a car crash on July 11. The 72-year-old died instantly in the accident, near the Rockefellers' Pocantico Hills Compound, 50 km north of New York. He was a grandson of the oil magnate John D Rockefeller.
Delhi LG's Death
A number of persons were interrogated in connection with the alleged suicide of former Delhi LG, Kishan Chand. Police tried to reconstruct the movements of Chand after heleft his house in Niti Bagh. Police are intrigued that police dogs went in different directions after picking up the scent from Chand's house.