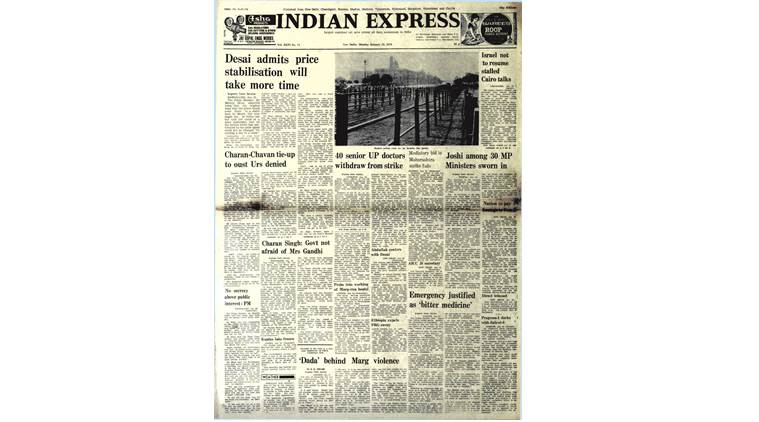 January 23, 1978, Forty Years Ago: Indira On Emergency
Indira Gandhi said history would decide whether the declaration of Emergency was justified or not, but she felt that the health of the country at that time deserved a bitter medicine. Addressing a rally of rebel Congressmen of four districts of Vidarbha — Nagpur, Wardha, Chandrapur and Bhandara — Mrs Gandhi said certain measures were taken and in that process some people had to face hardships. She had already expressed her sorrow, but that did not mean there were no gains during the Emergency. Besides increase in industrial and agricultural production, the country marched ahead towards socialism which certain political parties did not like, being communal and capitalist, she said.
Israel-Egypt Talks
The Israeli Cabinet decided unanimously against sending for the time being defence minister, Ezer Weizman, back to Cairo to resume the stalled military committee talks. The decision followed the Egyptian president, Anwar Sadat's address to the Egyptian Parliament, in which he said negotiations at the foreign-minister level should not be resumed unless Israel agreed in advance to total withdrawal from occupied Arab territory and granting of self-determination to Palestinians on the West Bank of the Jordan and in Gaza. After a three-hour Cabinet session, the prime minister, Menachem Begin, announced the decision to newsmen.
New Soviet Craft
An unmanned Soviet spacecraft, Progress-1, docked with the Salyut-6 orbiting station, bringing fresh supplies and equipment to two cosmonauts on board, Taas news agency reported. The Progress, the first of a new type of Soviet craft with automatic controls and guided by ground stations, was launched into orbit from Baikonur cosmodrome in Central Asia. The cosmonauts abroad the station, Lt Col Yury Romanenko and Eng Georgy Grechko, watched the docking without assisting it.