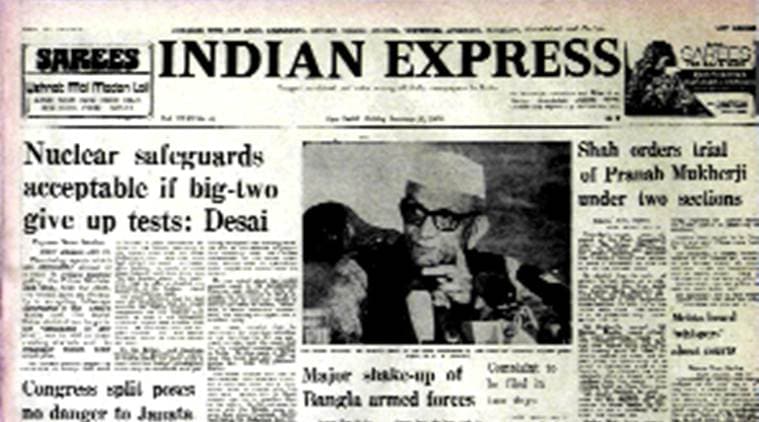 January 13, 1978, Forty Years Ago: Pranab to face trial
Former Minister of State for Revenue and Banking, Pranab Mukherji, emulated Mrs Gandhi's stand and refused to make a statement or take the oath on the witness stand in the hearing of the Shah Commission. He pleaded that the oath of secrecy he had taken as a minister prevented him from doing so. Justice Shah, therefore, directed that Mukherji be prosecuted before a local magistrate under sections 173 and 179 of the IPC. Mrs Gandhi is to be prosecuted only under Section 179.
PM on Nuclear policy
Dismissing rumours which are circulating abroad of a shift in India's nuclear policy, the Prime Minister said that the country would have no difficulty in accepting full-scope safeguards if the United States and the Soviet Union decided not to go in for "explosions of any kind", nor to add to their existing arsenals and to gradually reduce their stockpiles. The nuclear question popped up the minute Morarji Desai came because of the reports persisting in the foreign press after James Callaghan's visit here that India had shifted its stand. Desai offered a detailed explanation of the Indian stand which revealed no shift.
CPM and Naxalites
The CPM continues to hold the Naxalites in mortal fear. If the CPM's draft political resolution is any guide, it confirms that the party leadership regards the Naxalites as the primary threat to the continuing loyalty of its cadres. There is no other explanation for the complete absence of any mention of any group of Naxalites in the exhaustive list of the "left and democratic forces" supplied in the CPM resolution. The list includes "our allies of the left parties" in West Bengal, Kerala, Maharashtra, etc. This presumably means parties such as the Forward Bloc, the Revolutionary Socialist Party, the Revolutionary Communist Party of India and the Socialist Unity Centre of India.