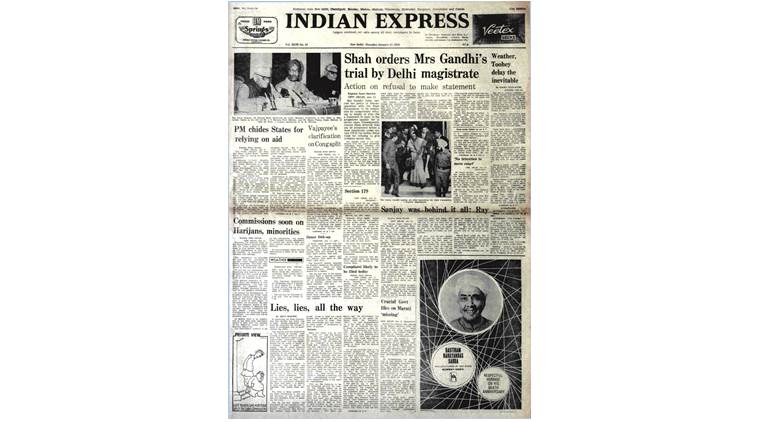 January 12, 1978, Forty Years Ago: Indira's prosecution
Indira Gandhi carried her policy of non-cooperation with the Shah Commission to its conclusion by categorically refusing to testify or even file a statement in reply to the allegations against her in 11 cases. Consequently, Justice Shah directed that she be prosecuted before a local magistrate under section 179 of the Indian Penal Code for refusing to give evidence before him. Mrs Gandhi came to the commission with her usual entourage, comprising family members and some lawyers. When asked by Justice Shah whether she was prepared to make a statements, she refused to mount the witness stand and walked instead to the microphone on her lawyer, Frank Anthony's table. And thus, from the floor of the hall she made a long speech, which Justice Shah later said was almost an election speech.
Oath Of Secrecy
Mrs Gandhi justified her refusal to testify by taking shelter behind the oath of secrecy. Ministers, she said, should not break their oath of secrecy. "I do not want to keep back information but I do not want to do what the Constitution forbids." By compelling ministers to break their oaths, the Commission had overstepped its powers. She protested against the "uninhibited disclosure of official records". Mrs Gandhi contended that though the Commission's proceedings may be judicial in character, they were not free from political consequences. The present government, she alleged, had appointed the commission to destroy the effectiveness of its opponents and was interested in securing findings against her.
Why Emergency
Mrs Gandhi repeated her standard reasons for imposition of the Emergency — lawlessness, unrest, adding that "I was being encircled and paralysed in my functioning as prime minister". There were some titters in the audience when she said that all major decisions in the Cabinet had been unanimous.