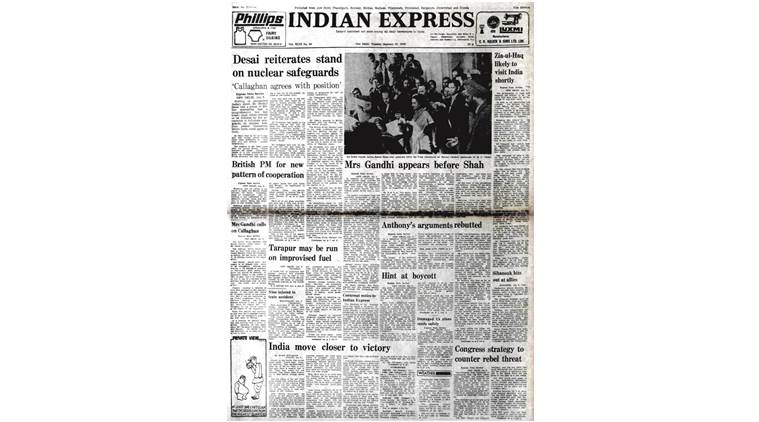 January 10, 1978, Forty Years Ago; Indo-Pak Diplomacy
The governments of India and Pakistan are believed to be in touch with each other for an exchange of high-level visits. Once the negotiations are complete, the minister for external affairs, Atal Bihari Vajpayee, will visit Islamabad. This is expected to be followed by a state visit by General Zia-ul-Haq, chief martial law administrator of Pakistan, to New Delhi. Vajpayee has already been to Afghanistan, Burma and Nepal. President Zia-ur Rahman of Bangladesh has already been to New Delhi.
Indira At Shah Panel
In response to summons, former prime minister, Indira Gandhi, attended the Shah Commission, accompanied by her family and legal advisors, thus ending the speculation that she might boycott the commission unless served a warrant.
PM On CTBT
Prime Minister Morarji Desai told a group of British journalists that a comprehensive test ban treaty (CTBT) must either include or be followed by the acceptance of full-scope safeguards by nuclear weapons powers themselves before India could agree to them. Desai went as far as to suggest that nuclear powers should apply these safeguards to their civil and defence installations.
Congress Rebellion
The Congress High Command, in consultation with the PCC chiefs, finalised the strategy for countering the threat posed by the rebel Congress led by Indira Gandhi. It was decided that the decisions taken by the Congress Working Committee — to hold political conferences at the state and district levels before February 15 to highlight various issues — should be vigorously implemented. The implications of the new party formed by Mrs Gandhi will be explained at these conferences to Congress workers and the people. These conferences are also expected to provide a bridge between the leadership and the rank and file.