Opinion
Forty years ago september 19 1979 taraki killed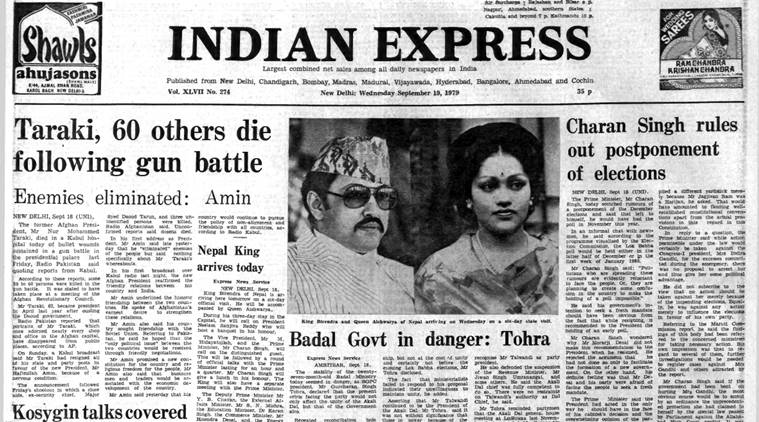 The former Afghan president, Nur Mohammed Taraki, died in a Kabul hospital of bullet wounds sustained in a gun battle in the presidential palace last Friday, Radio Pakistan said, quoting reports from Kabul. According to these reports, some 50 to 60 persons were killed in the gun battle. It was stated to have taken place at a meeting of the Afghan Revolutionary Council. Taraki, 62, became president in April last year after ousting the Daoud government. Radio Pakistan reported that portraits of Taraki, which once adorned nearly every shop and office in the Afghan capital, have disappeared from public places, according to AP.
No Election Delay
Prime Minister Charan Singh scotched rumours of a postponement of the December elections and said that left to himself, he would have had the poll in November this year. In an informal chat with newsmen, he said that according to the programme visualised by the Election Commission, the Lok Sabha poll would be held either in the latter half of December or in the first week of January 1980. Singh said, "Politicians who are spreading these rumours are evidently reluctant to face the people. Or, they are planning to create some confusion in the country to make the holding of a poll impossible."
Auctioning Jewels'
An application urging that 37 pieces of the Nizam jewellery, due to be auctioned on September 20 should not be allowed to be taken out of the country will come up before the Supreme Court. The application has been filed by former Member of Parliament, Kanwar Lal Gupta. The matter was listed after N M Ghatate, counsel for Gupta, mentioned it before Chief Justice Y V Chandrachud and Justice N L Untwalia. The 37 pieces of jewellery are to be auctioned on September 23 following an order of the Supreme Court on a petition arising out of claims by two rival bidders for the jewellery.