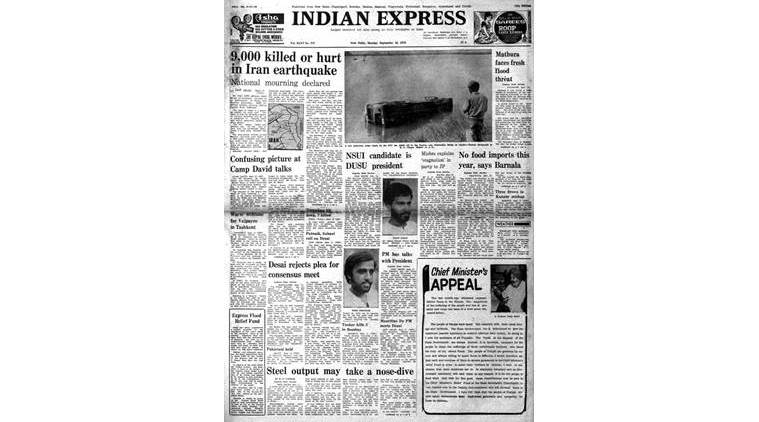 Forty Years Ago: September 18, 1978
Earthquake In Iran
At least 9,000 persons were killed or seriously injured in an earthquake in Tabas and Ferdous, BBC reported, quoting official figures from Tehran. The town of Tabas is a mountain of rubble, the radio said. The Shah of Iran has declared a period of national mourning and set up a committee to organise relief and rescue operations backed by army planes. The mud-walled villages around Ferdous, destroyed once before in a 1968 quake, crumbled again when an earthquake with a force of seven on the Richter Scale hit the same region, the Tehran Geophysics Institute announced. National Iranian Radio and Television announced that at least 80 per cent of Ferdous was destroyed.
West Asia Talks
US President Jimmy Carter and Prime Minister Menachem Begin of Israel concluded a four-and-half-hour meeting as the West Asia summit meeting moved toward a close. The outcome of the nearly two weeks of talks remained a mystery as Carter attempted to bring Begin and the Egyptian president, Anwar Sadat, together on issues that would keep the peace process alive. Carter met Sadat in Aspen lodge, the US president's headquarters for two-and-half hours. Carter then met Begin. Sources close to all the three delegations reported privately that the US president was conducting intensive and potentially meaningful discussions.
Atal In Soviet Union
External Affairs Minister A B Vajpayee was given a warm welcome when he arrived in the capital of Uzbekistan on the last leg of his eight-day official visit to the Soviet Union. Vajpayee was received at the airport by the Uzbekistan Deputy Prime Minister M T Tursunov, and the chairman of the city council, Kazimov Waheed. Vajpayee had a round of talks with Tursunov on bilateral economic matters and the two sides underlined the bonds of friendship that existed between the people of Uzbekistan and India.