Opinion
Forty years ago october 11 1978 vajpayee at un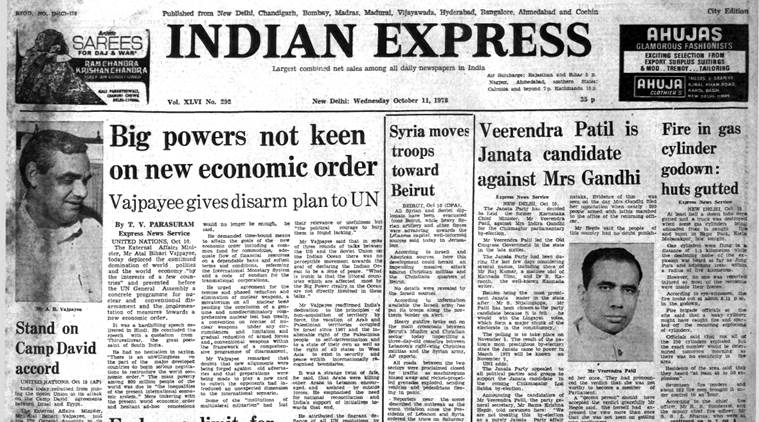 External Affairs Minister Atal Bihari Vajpayee deplored the continued domination of world politics and the world economy "by the interests of a few countries" and presented before the UN General Assembly a concrete programme for nuclear and conventional disarmament and the implementation of measures towards a new economic order. It was a hard-hitting speech delivered in Hindi. He concluded the speech with a quotation from Thiruvalluvar, the great poet-saint of South India. Vajpayee demanded time-bound means to attain the goals of the new economic order including a common fund for commodities, adequate flow of financial resources on a dependable basis , reforming the IMF and a code of conduct for transnational corporations.
Chikmagalur Bypoll
The Janata Party has decided to field former Karnataka Chief Minister Veerendra Patil against Indira Gandhi for the Chikmagalur parliamentary byelection. Patil led the Congress (O) government in the state in the late sixties. The Janata Party had been considering several names, including Raj Kumar, a matinee idol, and Shivarama Karanth, the well-known Kannada writer. The polling will take place on November 5 and the result will be known on November 7.
UN Honours Nehru
Jawaharlal Nehru is one of seven persons being honoured by the UN General Assembly's committee against apartheid for their contribution to campaign against racism. Those who will receive the medals personally are Jamaica's Prime Minister Michael Manley, Sweden's Foreign Minister Olof Palme, and Canon of St Paul's Cathedral in London, John Collins. Besides Nehru, those who will get the medals posthumously are former President of Ghana Kwame Nkrumah, former head of state of Nigeria, General Murtala Mohammed and American singer and leader who struggled racism, Paul Robeson.