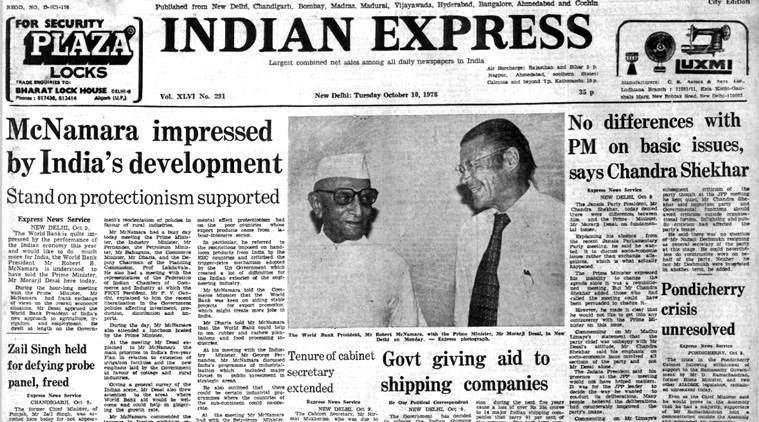 Forty Years Ago, October 10, 1978: Janata Divide
Janata Party President Chandra Shekhar denied there were differences between him and Prime Minister Morarji Desai on fundamental issues. Explaining his absence from the recent Janata Parliamentary Party meeting, he said he wanted it to discuss socio-economic issues rather than exchange allegations, which is what actually happened. Desai expressed his inability to change the agenda since it was a requisitioned meeting. Chandra Shekhar added that those who had called the meeting could have been persuaded to change it. However, he made it clear that he would not like to get into any controversy with the PM on this issue.
World Bank On India
The World Bank is impressed by the performance of the Indian economy and would like to do much more for India, World Bank president Robert S McNamara is understood to have told Prime Minister Desai. During their meeting in New Delhi, Desai apprised McNamara of India's new approach to agriculture, irrigation and employment and the government's reorientation of policies in favour of rural industries. McNamara also met industry minister George Fernandes, petroleum minister H N Bahuguna, commerce minister Mohan Dharia, and the deputy chairman of the Planning Commission, Prof Lakdawala.
Pension For MLAs
Prime Minister Desai is understood to be against giving pension to MPs and MLAs. A deputation of four Janata leaders — Ramanand Tiwari, Ramji Lal Suman (both MPs), Swami Agnivesh and Sushma Swaraj (both MLAs) — called on him to submit a memorandum demanding scrapping of a provision under which the legislators were entitled to pension. The petition said the pension to legislators was a political corruption. Agnivesh told newsmen that both Desai and Chandra Shekhar were against the Haryana Legislative Assembly (Amendment) Act 1978 under which a person who had served as an MLA even for a day would be entitled to life-long pension.