Opinion
Forty years ago november 9 1979 ioc strike off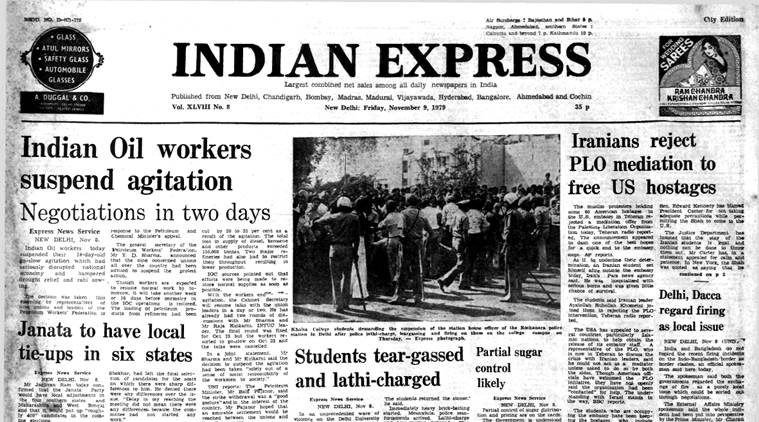 Indian Oil workers suspended their 14-day-old agitation which had seriously disrupted national economy and hampered drought relief and rabi sowing. The decision was taken by representatives of nine unions and leaders of the Petroleum Workers' Federation in response to the Petroleum and Chemical Minister's appeal.
General secretary of the Petroleum Workers' Federation, Y D Sharma, announced that the nine concerned unions all over the country had been advised to suspend the protest action. Though workers are expected to resume work by tomorrow, it will take another week or 10 days before normalcy in th e IOC operations is restored.
Janata Local Ties
Jagjivan Ram confirmed that the Janata Party would have local adjustments in the four southern states and Maharashtra and West Bengal, and that it would put up "roughly 400" candidates in the coming elections.
Talking to newsmen, he said, " I do not think we will contest all the 542 Lok Sabha seats." He did not think there would be any difficulty in selection of candidates even for the seats not held by the Janata Party in the distorted Lok Sabha. "We have learnt the art of selecting candidates. We have done this for years," he added. Replying to questions, Ram confirmed that the party president, Chandra Shekhar, had left the final selection of candidates for the seats on which there were sharp differences to him.
US Hostage Crisis
The muslim protesters holding some 60 American hostages in the US embassy in Teheran rejected a mediation offer from the Palestine Liberation Organisation, Teheran radio reported. The announcement appeared to dash one of the best hopes for a quick end to the embassy siege, AP reports.
As if to underline their determination, an Iranian student set himself afire outside the embassy today, Iran's
Pars news agency said. He was hospitalised with serious burns and was given little chance of survival.