Opinion
Forty years ago november 5 1979 seizing the embassy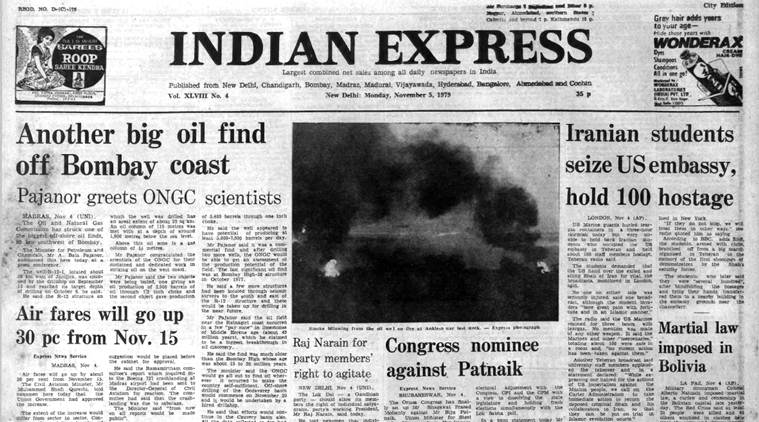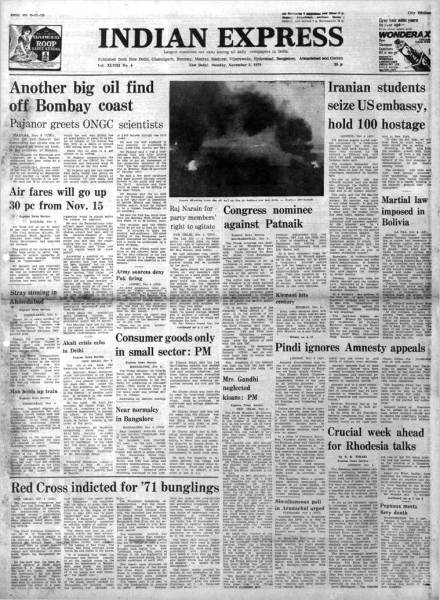 US marine guards hurled teargas containers in a three-hour skirmish today but were unable to hold back Iranian students who occupied the US embassy in Teheran and held about 100 staff members hostage, Teheran radio said. The students demanded that the US hand over the exiled and ailing Shah of Iran for trial, the broadcasts, monitored in London, said. No one on either side was seriously injured, said one broadcast, although the student invaders "bore great pain with fortitude and in an Islamic manner." The radio said th e US Marines resisted for three hours with teargas. No mention was made of any o ther weapon. It said the Marines and other "mercenaries," totaling about 100 were safe in a room and, "no violent action h a s been taken against them."
Anti-farmer Indira
Prime Minister Charan Singh in a statement said there had been a large increase in the number of big farms as also in the average size of these farms during the 10 years of Indira Gandhi's regime. Against this, the number of farmers had come down and that of agricultural labourers had gone up. This showed that Mrs Gandhi had cared little for the peasantry and the rural people. "It is not an accident that she receives the support of big landlords and industrial houses as was evidenced during the Emergency," he added. Singh's rejoinder to Mrs Gandhi was issued by the Lok Dal party headquarters, though the PM is out of town. Singh noted that the number of big farms had gone up from 23 lakhs to 28 lakhs and their average size had increased from 17 to 18 hectares.
Right To Protest
Lok Dal — a Gandhian party — should allow its members the right of individual satyagraha, party's working president, Raj Narain, said today. He told newsmen that individual satyagraha indicated self-discipline and this individual freedom should not be curtailed by the party. The party should not place any fetters on any
member's right to agitate on a good public cause. He, however, said that the party could take action against the member if said agitation damaged the image of the party. Narain, who put forward certain suggestions for inclusion in the Lok Dal manifesto, also said that no one should be allowed to become prime minister, chief minister and minister for more than two terms.