Opinion
Forty years ago november 28 1979 quitting congress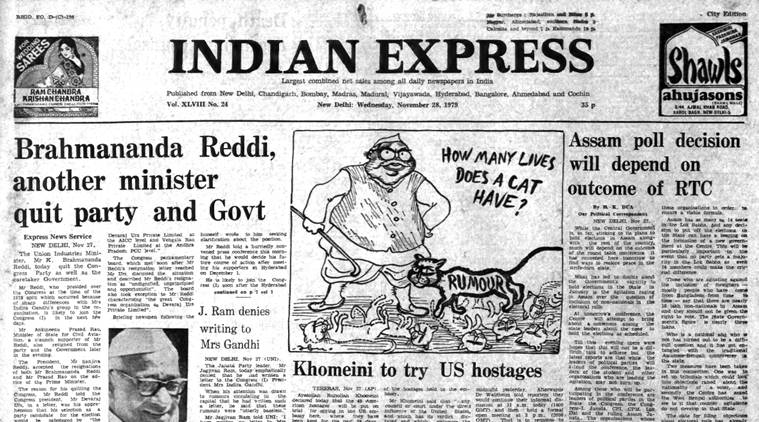 Union industries minister K Brahmananda Reddy quit the Congress Party as well as the caretaker government. Reddy, who presided over the Congress at the time of the 1978 split which occurred because of sharp differences with Indira Gandhi's group in the organisation, is likely to join the Congress (I) in the next few days. Ankineedu Prasad Rao, minister of state for civil aviation, and a staunch supporter of Reddy, also resigned from the party and the government later in the same evening. President N Sanjeeva Reddy accepted the resignations of both Reddy and Rao on the advice of the prime minister.
Godavari Sharing
Maharashtra has been allowed the use of all the waters of the Godavari up to the Paithan Dam site under the award of the Godavari Waters Tribunal. The tribunal's report was submitted to the government, ending the long-standing dispute of the basin states — Maharashtra, Karnataka, Andhra Pradesh, Madhya Pradesh and Orissa — over sharing of the waters of the largest river of the South. Maharashtra's share would include Pravara sub-basin and waters up to certain specified dam sites in the other river system in the Maharashtra area. In addition, Maharashtra has been allotted 215 tmc in the various sub-basins for other projects and minor irrigation schemes. Karnataka has been allocated 17.77 tmc.
US Hostages in Iran
Ayatollah Ruhollah Khomeini declared that the 49 American hostages will be put on trial for spying in the US embassy in Teheran, where they have been kept for the past 24 days. In a statement broadcast by the state radio, Khomeini said Iran would reject any decision reached by the UN Security Council as dictated by the United States. The Iranian leader's statement came a few hours before the Council was due to meet in New York, to consider the deepening US-Iran crisis.