Opinion
Forty years ago november 27 1979 kissa kursi ka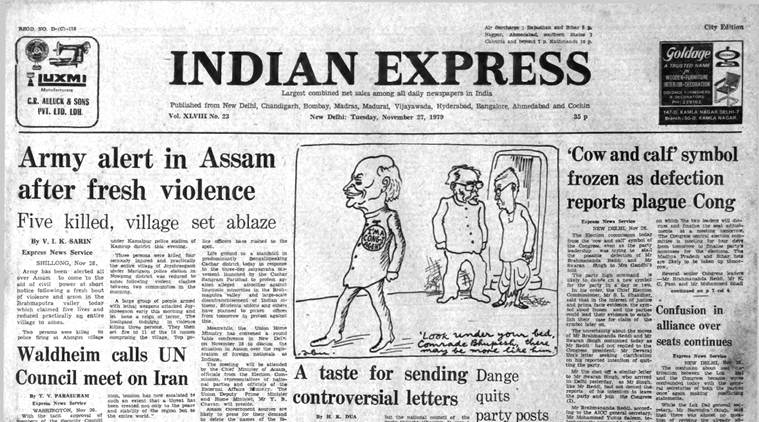 The hearing of the appeals of Sanjay Gandhi and V C Shukla in the Kissa Kursi Ka case opened at the Supreme Court amidst what may well be the tightest security measures ever. Madan Bhatia, counsel for Sanjay Gandhi, told a three-member bench of the Court that Sanjay did not come under the "ambit" of the Special Courts Act and that the Act in itself was unconstitutional. He said that as Sanjay had never held high public or political office, he did not come under the ambit of the Act. The Act, Bhatia contended, empowered the executive to choose certain class of people for "hostile" treatment, which was violative of Article 14 (relating to fundamental rights) of the Constitution.
Assam Violence
The Army has been alerted all over Assam to come to the aid of civil power at short notice following a fresh bout of violence and arson in the Brahmaputra valley which claimed five lives and reduced practically an entire village to ashes. Two persons were killed in police firing at Ahotgiri village under Kamalpur police station of Kamrup district last evening. Three persons were killed, four seriously injured and practically the entire village of Joyshreegaon under Marigaon police station in Nowgong district was reduced to ashes following violent clashes between two communities in the morning.
Cong Symbol Freeze
The Election commission froze the "cow and calf" symbol of the Congress, even as the party leadership was trying to stall the possible defection of Brahmananda Reddy and Swaran Singh to Indira Gandhi's fold. The party high command is likely to decide on a new symbol for the party in a day or two. In his order, the chief election commissioner, S L Shakdher, said that in the interest of justice and prima facie evidence, the symbol stood frozen and the parties could lead their evidence, to establish their case for claim of the symbol later on.