Opinion
Forty years ago november 20 1979 cia spy acrimony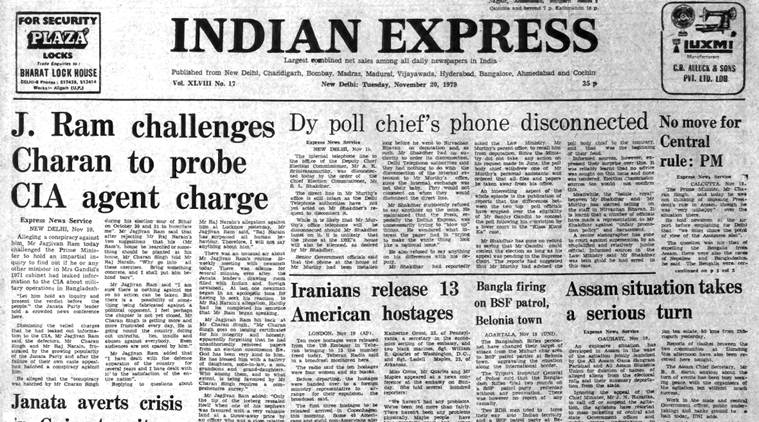 Alleging a conspiracy against him, Jagjivan Ram challenged the prime minister to hold an impartial inquiry to find out if he or any other minister in Indira Gandhi's 1971 cabinet had leaked information to the CIA about military operations in Bangladesh. "Let him hold an inquiry and present the verdict before the people," the Janata Party leader told a crowded news conference in Delhi. Dismissing the veiled charges that he had leaked out information to the CIA, Ram said the defectors — Charan Singh and Raj Narain — frustrated by the growing popularity of the Janata Party, had hatched a conspiracy against him.
Assam In Turmoil
An explosive situation has developed in Assam in the wake of the agitation jointly launched by the All Assam Gana Sangram Parishad and All Assam Students Union for deletion of names of alleged aliens from the electoral rolls, and their deportation from the state. Ignoring the appeal of Chief Minister J N Hazarika to suspend the agitation, the agitators have resorted to mass picketing of central and state government offices and PSUs.
No President's Rule
Prime Minister Charan Singh said he was not thinking of imposing President's rule in Assam, though he was "very unhappy" over the situation there. He said that "we must share the point of view of the Assamese also". The question was not that of expelling the Bengalis from Assam, there were also the cases of Nepalese and Bangladeshis, he said.
No Reservation
The Union government has dropped the move to reserve a percentage of posts for backward classes in Central services, Deputy PM Y B Chavan, said. The decision to drop the proposed measure to provide for reservation is apparently aimed at preventing a serious law and order situation that could arise because of the antagonism of the forward classes.