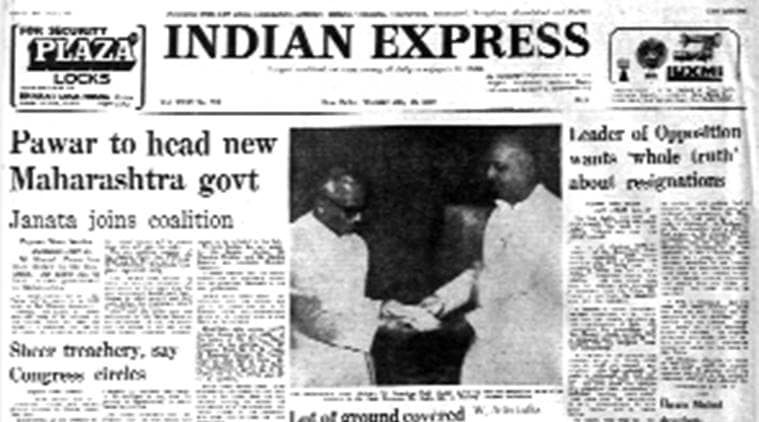 Forty Years Ago, July 18, 1978: Pawar to be CM
Sharad Pawar was invited by Governor Sadiq Ali to form the government in Maharashtra. A small cabinet led by Pawar will be sworn in at Raj Bhavan on July 19. It is presumed that Uttam Rao Patil and Nihal Ahmed will accompany Pawar in taking the oath. The coalition consists of the Janata Party, PWP, CPM and Pawar's newly formed Maharashtra Progressive Congress Legislature Party. The leaders have hurried the formation of the government to ensure work before legislature is completed in time.
Desai-Singh Meet
Morarji Desai and Charan Singh "covered a lot of ground" in their meeting and agreed to meet again. The talks were cordial and dealt with several points which had created distance between the prime minister and the former home minister. Charan Singh explained that he had not made any allegations against the PM's son, and that all he had suggested was that a commission of inquiry could look into the allegations being heard in certain quarters.
Hawa Mahal Cracks
A team of Rajasthan government officials inspected Hawa Mahal to find out the truth behind rumours of cracks appearing in the monument. The team, which included an additional chief engineer of the Public Works Department, and the director of archeology, stated that no new cracks had been noticed. The state archeology department is responsible for the upkeep of Hawa Mahal and it has spent large sums on its repairs.
Opposition Charge
The Lok Sabha was tied up in a wrangle for nearly two hours over the issue of Charan Singh's exit from the Union Cabinet. Leader of the Opposition and Congress-I MP, C M Stephen, faced strong opposition from Janata members who tried to prevent the occasion from being used to bring in issues like Charan Singh's allegations against leadership.