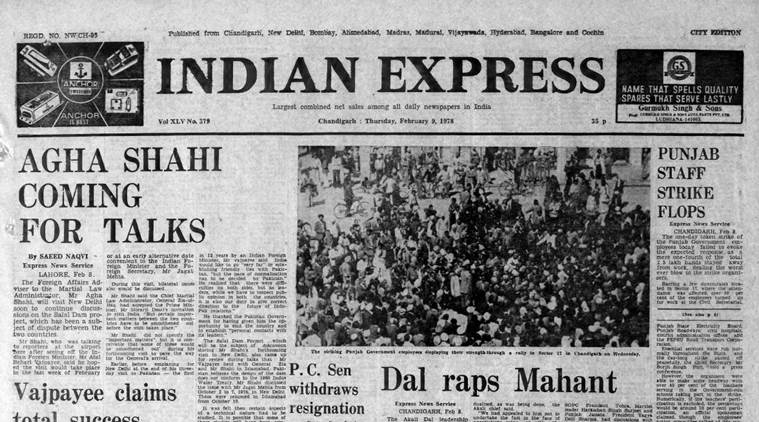 Forty Years Ago, February 9, 1978: Haksar Harassed
Even as eminent a man as P N Haksar was not safe from the intrigues and stratagems of Sanjay Gandhi during the Emergency. Probably, because he pretended not to hit out at Haksar directly, Sanjay Gandhi wove an intricate web of intrigue to involve Haksar's wife, sister and uncle in sales tax and income-tax cases, and had the aged uncle and his partner arrested on what appears to be a frivolous charge. This came out in the evidence in the Pandit Brothers case. Haksar, who had served for several years as the principal secretary to Sanjay Gandhi's mother, the then prime minister, appeared to be aware of the reasons for this action against his close relatives, but refused to use his personal influence to intervene to save them. It was left to a family friend, Aruna Asaf Ali, to complain to Mrs Gandhi, who then ordered the arrested persons to be released on bail.
Vajpayee's Pak Visit
Atal Bihari Vajpayee returned from Pakistan, fully satisfied with the talks in Islamabad. These, he said, had helped a great deal in clearing doubts and misunderstandings in the minds of the leaders of that country. He is confident that India and Pakistan would now work towards mutual cooperation. Vajpayee said it would not be correct to assume that the Kashmir issue had dominated his talks with Pakistan's leaders. The emphasis was on ways to expand trade and further exchanges in fields such as agriculture, culture and sports. Pakistan, Vajpayee said, had expressed the view that with all the requisite steps in the process of normalisation between two countries, as envisaged in Simla Agreement, having been taken, there should now be talks on Kashmir.
Shahi To Visit
Foreign Affairs Adviser to Pakistan's Martial Law administrator, Agha Shahi, will New Delhi soon to continue discussion on the Salal Dam project, which has been a subject of dispute between the two countries.