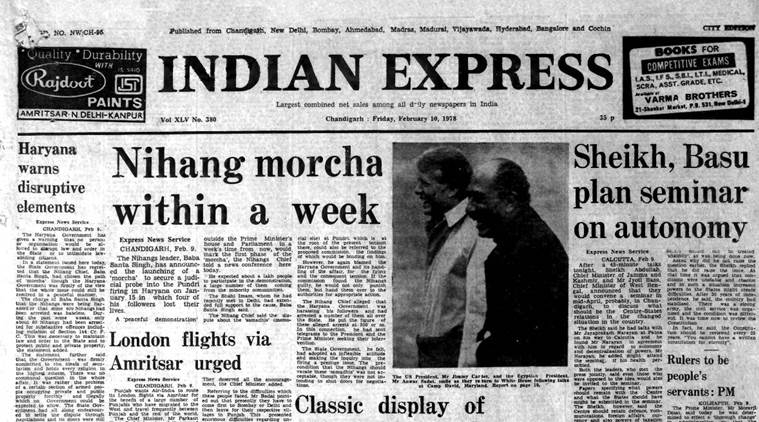 Forty Years Ago, February 10, 1978 — PM as Sevak: Desai
Prime Minister Morarji Desai said he was determined to effect a thorough change in administration so that "the rulers become real servants of the people". Addressing mammoth meetings at Kolhapur, Sangli etc, he called upon people to be fearless and brook nonsense from anybody, however, highly placed. "A time must come when an ordinary citizen too should have the courage to tell the prime minister to behave if his actions and speeches smack of discourtesy to the people," he added.
Indira's Accusations
The current spree of stone-throwing in her public meetings all over the country is a calculated move to kill her, Mrs Gandhi alleged. Speaking to newsmen, Mrs Gandhi sought to make a big difference between the stone-throwing in the recent past and the present and said she could categorically assert that the latter was oriented completely to bump her off because the very size of the stones chosen for the attack spoke of the real intentions of those who attacked her. But, she said, she was not a person to be deterred by such attacks. She had led a full life and did not mind laying down her life, if it came to that. Her life would be a small price to pay for the duty which she had accepted to expose the misdeeds of the Janata government and restore the decent values of life in the country.
Centre-State Meet
Sheikh Abdullah, chief minister of Jammu and Kashmir, and Jyoti Basu, chief minister of West Bengal, announced in Calcutta they would convene a seminar in mid-April to discuss what should be the Centre-states relations in the changed situation in the country. The Sheikh said he had talks with Jayaprakash Narayan at Patna and he found JP in agreement with him in regard to autonomy and decentralisation of powers. JP, he added, might attend the seminar, if his health permitted.