Opinion
Forty years ago august 20 1978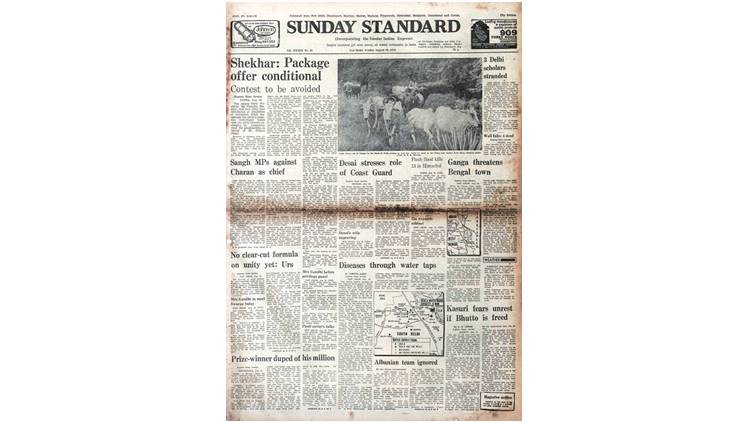 Unity condition
The Janata Party President Chandra Shekhar said that the withdrawal of allegations of corruption, which besmirched the party's image, was inextricably linked with the unity formula envisaging his resignation from the presidentship in favour of Charan Singh. Speaking to journalists after his talks with Jayaprakash Narayan, Chandra Shekhar said, "All of us will have to learn that making allegations (outside the party forums) is an evil that cuts at the roots of the party".
Sangh against Singh
The Janata members of Parliament belonging to the erstwhile Jana Sangh are wholly opposed to the idea of installing Charan Singh as the new president of the Janata Party, according to reliable sources. At the end of a series of meetings, they are believed to have come to the view that choosing him would harm the party. Speeches were also made at the meetings criticising Prime Minister Morarji Desai for having acquiesced to the "unity formula".
Congress unity talks
The question of unity between the two Congresses came up at an emergency meeting of the Congress (I) Working Committee today. Devraj Urs, Karnataka chief minister, who hosted a gala unity talks dinner here, told the Working Committee what had happened at the meeting. He reportedly said no clear-cut formula was discussed at the meeting. It was just informal talks after dinner.
Himachal floods
Thirteen people died in flash floods in the Kunal village of Bilaspur district last night. The flood in a local nullah washed away 15 houses in the village killing 13 persons and injuring another seven. Seven bodies,
including those of two children, have been recovered so far. The Himachal public Works minister, Kishori Lal and the agriculture minister, Bachitra Singh, are supervising the rescue.