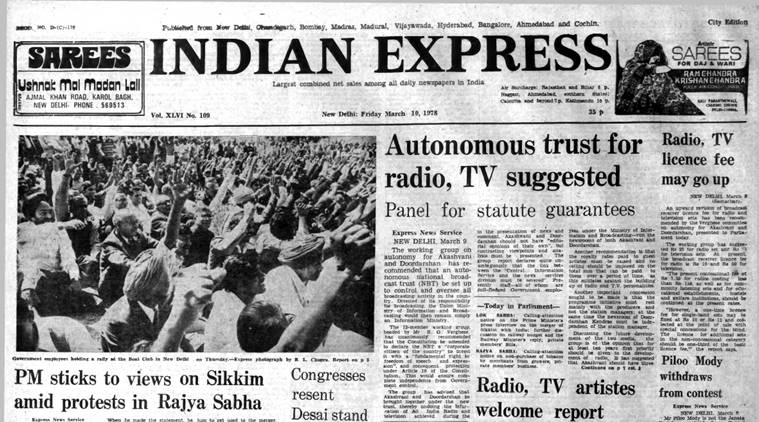 Forty Years Ago, March 10, 1978: AIR, DD Autonomy
The working group on autonomy for Akashvani Doordarshan recommended that an autonomous national broadcast trust (NBT) be set up to control and oversee all broadcasting activity. Divested of its responsibility for broadcasting, the Ministry of Information and Broadcasting would then remain simply an information ministry.
The 12-member working group, headed by B G Verghese, unanimously recommended that the Constitution be amended to declare the NBT a "corporate citizen of the country" to invest it with a "fundamental right to freedom of speech and expression", and consequent protection under Article 19 of the Constitution. This would ensure complete independence from government control.
The group has advised that Akashvani and Doordarshan be brought together under the new trust, thereby undoing the bifurcation of All India Radio and achieved during the Emergency. The Verghese group has proposed a single unified cadre of staff including the staff artistes who have been agitating for better promotional avenues and scales.
PM On Sikkim
Prime Minister Morarji Desai reiterated that the merger of Sikkim with India is a clearly settled fact and could not be unsettled. At the same time, he held on to his view that the manner of merger was not desirable. He had said this at that time and had been saying so ever since. Desai's statement came in the Rajya Sabha, which had witnessed uproarious scenes created by Congress and communist members who were agitated over the remarks made by the PM in an interview to The New York Times.
Antony In CWC
Swaran Singh announced the new Congress Working Committee which has two new members: Chief Minister of Kerala A K Antony and Mohammad Shafi Qureshi, MP, who has been appointed general secretary along with K C Pant.