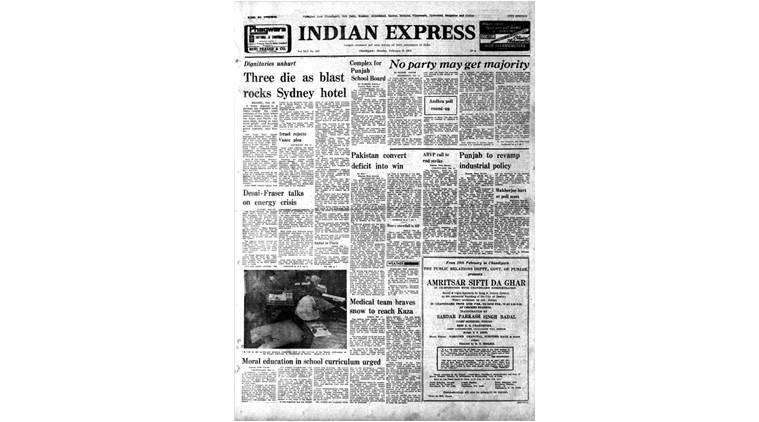 February 13, 1978, Forty Years Ago: Uncertain Andhra
If claims are any guide, none of the three major political parties — the Janata Party, Congress and Congress-I — are set to get an absolute majority in the 295-member Andhra Pradesh Assembly. Vengal Rao, the Congress chief minister, says his party will bag about 165 seats, Tenneti Vishwanadham of Janata claims 160 and Chenna Reddy of Congress-I, 180. While these claims maybe exaggerated, but they do reflect the uneasiness of all three parties over the outcome. The situation may change as the polling date is still 12 days away and the last round of campaigning by Prime Minister Morarji Desai and Mrs Indira Gandhi is yet to take place.
Sydney Blast
A bomb planted in a garbage bin exploded outside the hotel in Sydney where leaders from a dozen Asian and Pacific countries are staying, killing three people and injuring seven others. Despite the size and intensity of the blast, none of the regional leaders, bureaucrats or their families in the city from 11 Commonwealth countries, was hurt.
Morarji-Fraser Meet
Prime Minister Morarji Desai held a 30-minute preliminary discussion with Australian Prime Minister Malcolm Fraser within minutes of his arrival in Sydney for the regional conference of the Commonwealth Heads of Government. Also present at the meeting were External Affairs Minister Atal Bihari Vajpayee and Foreign Secretary Jagat Mehta along with Australian External Affairs Minister Andrew Peacock.
Moral Education
Introduction of socially useful work and moral education are part of the recommendations made by the three-day ninth annual Conference of the Board of Secondary Education (COBSE). Talking to newsmen, the secretary of COBSE said the meeting had by and large agreed with the proposals of the Patel Review Committee, set up by the Union education ministry.