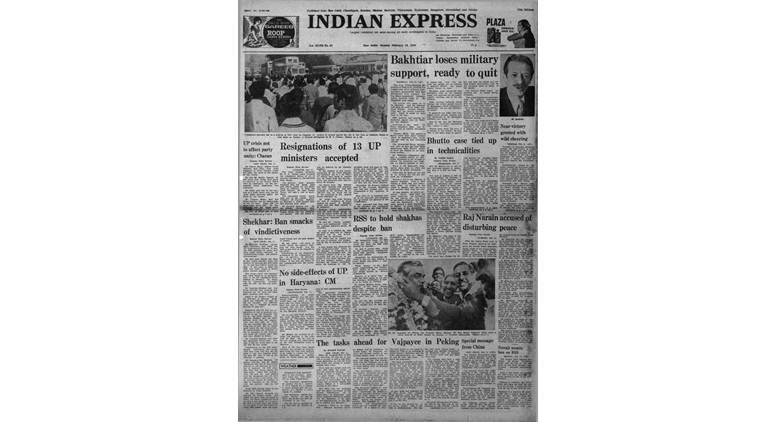 February 12, 1979, Forty Years Ago: UP RSS ban
Narendrajit Singh, UP RSS chief, said the ban would not deter the RSS from holding its shakhas. He said if arrests were made, the organisation would hold peaceful satyagraha and court arrests. Ganga Bhakta Singh, vice president of the state Janata Party and Lok Sabha MP, said the government's decision was in violation of the election manifesto of the Janata Party. He said the ban provided the proof of an alliance between Indira Gandhi and Raj Narain.
Nanaji opposes
The Janata Party Secretary Nanaji Deshmukh said the ban on the RSS drills by the UP government betrayed authoritarianism. Deshmukh said since the RSS was not born out of fear, it could also not wind up out of any kind of fear. He said a recent dispatch by Tass on the RSS activities was "unfortunate" and said the opinion expressed by a Soviet agency constituted an interference in the internal affairs of India.
Janata chief disagrees
Chandra Shekhar, Janata Party President, said the UP government's decision to ban the RSS shakhas in parks and other public places "smacked of vindictiveness – under the present circumstances". He said even during the days of Indira Gandhi, when the question of banning the RSS came up, he had said that it would not help.
Iran turmoil
Iran Prime Minister Shahpour Bakhtiar has drafted his resignation after military commanders announced they had withdrawn their support for the Shah-appointed government. His aides said he could no longer continue without military support. The 62-year-old prime minister took office 38 days ago after Shah Mohammad Reza Pahlavi agreed to leave the country.