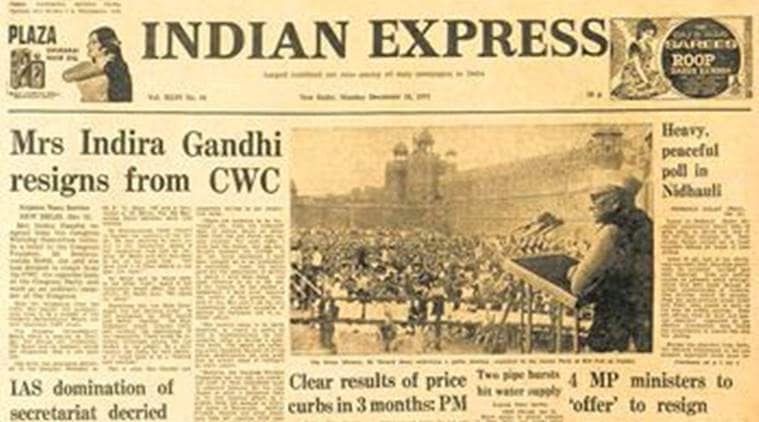 Decmber 19, 1977, Forty Years Ago: Indira quits CWC
Indira quits CWC
Indira Gandhi resigned from the Congress Working Committee. In a letter to the Congress president, K. Brahmananda Reddy, she said she had resigned from the CWC, the supreme body of the Congress, and would now work as an ordinary member of the party. Reddy refused to disclose the contents of Mrs Gandhi's letter, which was hand delivered to the Congress president by F.M. Khan, an MP and a confidant of Karnataka chief minister, Devraj Urs.
In her letter, the former prime minister wrote: "There are moments in an individual's life, when the inexorable logic of events leaves no option than the one which may appear extreme. For some weeks, I have had the feeling that one such moment has arrived in my life. Since childhood, I have been brought up in an atmosphere of patriotism. Later, the nation gave me the opportunity of serving it, which I have been doing and shall continue to do to the best of my capacity. In the context of democracy, I have never rejected the verdict of the people, whatever it was. But now I see my own organisation rendered incapable of playing its legitimate role in national affairs… Hence, after full reflection, I have decided to resign from the Working Committee."
Split ruled out
Y.B. Chavan, leader of the Opposition, said a split in the Congress was not inevitable. Chavan said the reason for his assertion was that the grass roots worker desired unity in the organisation. "In view of this reality, a split is not inevitable,"said Chavan. He also said that the Congress had a "very good chance" in the upcoming assembly polls to several states.
Benazir detained
Miss Benazir Bhutto, daughter of ousted prime minister Z.A. Bhutto, was placed under house arrest for a week for her political activities. She was taken into custody at a Lahore hospital while visiting her mother who was injured during rioting at a cricket Test match between Pakistan and England. The district magistrate said Miss Bhutto, 24, had made disruptive speeches which, with her appearance at the match, resulted in arson, loss of property and injuries.