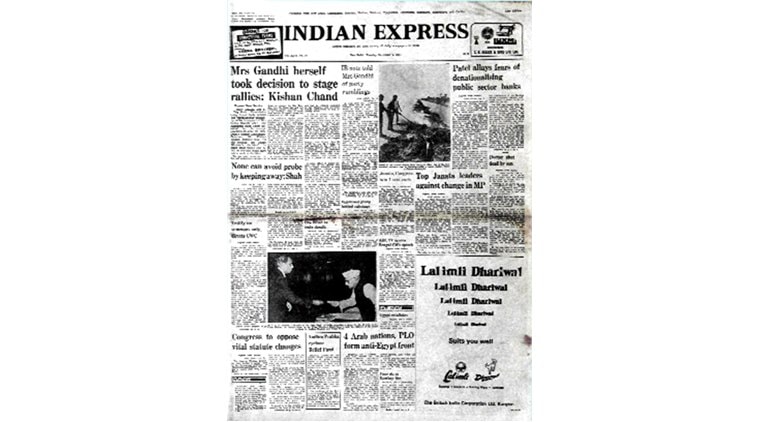 December 6, 1977, Forty Years Ago; Shah Commission
The Shah Commission heard facts behind the "spontaneous" solidarity rallies in support of Mrs Indira Gandhi after the Allahabad High Court unseated her for corrupt practices on June 12, 1975. Delhi's former lieutenant-governor, Kishan Chand, testified that "it was perhaps the prime minister's decision'' to stage these rallies and he felt no one else could have taken such a decision. The two main conductors of this well-orchestrated campaign to drum up support for Mrs Gandhi were Bansi Lal and her additional private secretary, R.K. Dhawan, both of whom have refused to appear before the Commission. The pro-Indira Gandhi rallies were allowed by the Delhi administration even though prohibitory orders under Section 144 CrPC were in force.
Shah On Indira
Justice J.C. Shah said it was a "misconception" on the part of the former prime minister, Mrs Indira Gandhi, to argue that his commission was seeking to challenge either the proclamation by the President of the 1975 Emergency or its ratification by Parliament. He had "no desire" nor had he the "competence" to do so. At the same time, Justice Shah added, he would be falling in his duty if under the terms of reference, he did not hold inquiry into the transactions, which had immediately preceded and led up to the declaration of the Emergency. It was not his intention to go into matters that transpired or fell within the period after June 26, 1975.
Anti-Egypt Front
Four Arab countries and the Palestine Liberation Organisation (PLO) agreed to establish a mutual security pact and called for a freeze on diplomatic ties with Egypt. The document resulting from the anti-Sadat summit was signed by Libyan leader, Muammar Gaddafi, Algerian President, Houari Boumédiène, President Salem Roubaya Ali of South Yemen, President Hafez al-Assad of Syria and PLO chief Yasser Arafat.