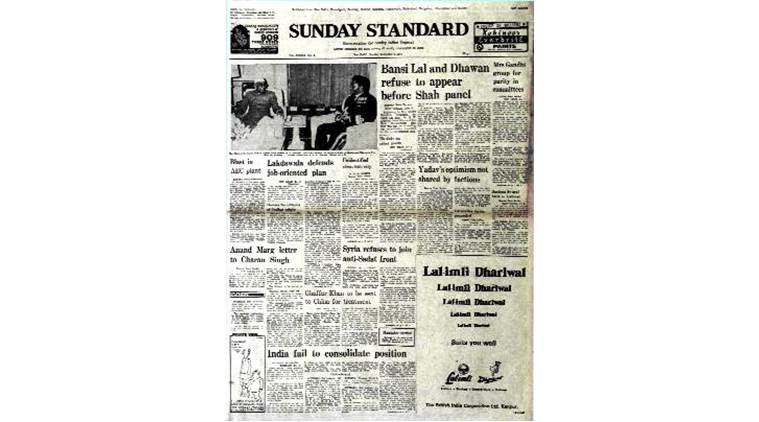 December 4, 1977, Forty Years Ago; Shah panel Boycott
Following in Indira Gandhi's footsteps, Bansi Lai and R.K. Dhawan informed the Shah Commission they will not attending the commission hearings the circumstances leading to the imposition of the Emergency. In separate letters to the Commission, the former defence minister and the former additional private secretary to Mrs Gandhi, said they feel no useful purpose will be served by their presence at the hearings.
Anand Marg Warns
A letter was received in The Indian Express office, purporting to be a copy of a letter to the Home Minister Charan Singh. It said that "just an assurance by Foreign Minister, Mr , that our sacred organisation will not be banned is not enough" and went on to threaten Prime Minister Morarji Desai. It demanded the "unconditional release of our chief, Anandmurti P.R. Sarkar". The letter warned that "Disastrous consequences, yes really disastrous, will follow if you over-estimate your power and continue to under-rate our strength. We shall wait for a week… Your threats cannot deter us as all 1500 of us have vowed to sacrifice our heads to secure chief's release. So to avoid chaotic conditions and heavy loss of human life and property, and if you love your chief Morarji's life, release our chief".
Badshah Khan
Khan Abdul Ghaffar Khan is to be sent to China for medical treatment. Khan was arrested on November 24 for allegedly trying to cross over to Afghanistan in protest against the continuance of the Hyderabad tribunal, according to Urdu daily, Nawa-i-Waqt. This tribunal has been trying the National Awami Party leaders for alleged anti-state activities.
Sushma Returns
The political crisis in Haryana which began with the dismissal of Sushma Swaraj from the state Cabinet on November 16 was resolved with her being sworn in again as minister.