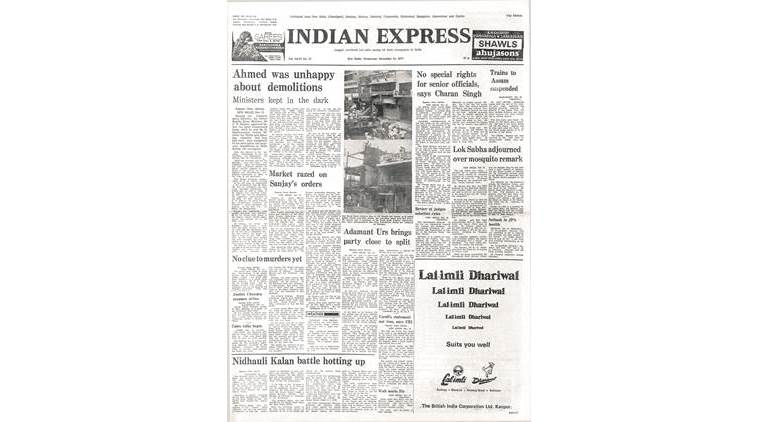 December 14, 1977, Forty Years Ago: Congress may split
To split or not to split — that will be the question before the Congress. Devraj Urs, Karnataka chief minister, issued a statement which made it clear that he did not see any point in meeting Y.B. Chavan to discuss the Congress Working Committee (CWC) formula for resolving the Karnataka crisis. Questioned on the statement, Urs said later: "I am willing to meet Charan and Kamlapati Tripathi if they want to meet me. But I will never change my stand." Urs was referring to the stand he had taken in his letters to Chavan and Tripathi when he declined to meet them to discuss the CWC-approved Karnataka formula. Urs insisted that all party disputes connected with Karnataka and other states should be solved in consultation with, and to the satisfaction of Indira Gandhi.
Shah Commission
Defying the Congress party directive, the former deputy home minister, F.H. Mohsin, appeared before the Shah Commission. Both he and K. Raghuramiah, former minister for works and housing, admitted that they had been kept completely in the dark about the largescale demolitions in Delhi during the Emergency. Both also referred to the extreme unhappiness of the late President, Fakhruddin Ali Ahmed, over the demolitions. While the president and the two ministers were not taken into confidence about the demolitions and their suggestions ignored, Sanjay Gandhi appears to have played a vital role in the redevelopment and beautification programme undertaken in Delhi.
JP's health
Jayaprakash Narayan, who was scheduled to fly to Calcutta, was advised by doctors at Jaslok Hospital, Bombay to stay on for a few days following deterioration in his condition. His secretary said JP had a fit of vomitting and his blood pressure had dropped.