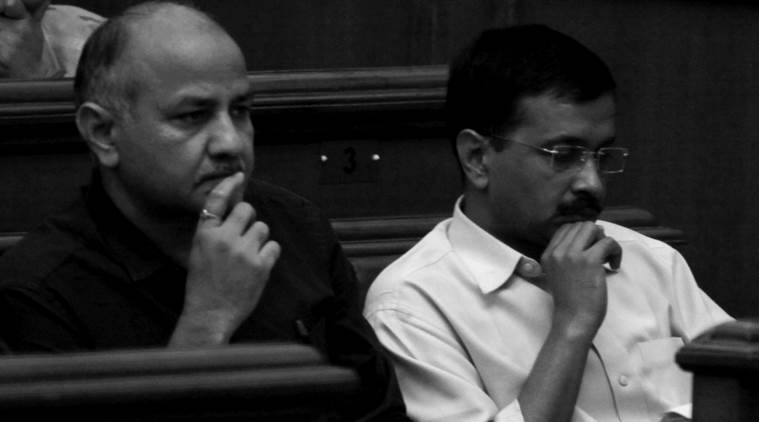 Combative AAP shown the door by Election Commission
With the Election Commission recommending disqualification of 20 Aam Aadmi Party (AAP) MLAs over the charge of holding office of profit, the party is now faced with yet another setback after infighting resurfaced earlier this month. While there is no imminent threat to the government — AAP will have 46 out of 70 MLAs (one MLA, Jarnail Singh, resigned to contest the Punjab elections), even if 20 are disqualified – fact is, being forced to contest on 20 seats with two years still left in the government has party leaders worried.
A complaint against 21 AAP MLAs was filed by lawyer Prashant Patel in June 2015. His charge was that the AAP's government's decision to appoint these 21 MLAs as parliamentary secretaries was against the law and that the post qualifies as an office of profit.
AAP came into power in February 2015 with a brute majority of 67 out of 70 MLAs. With Jarnail Singh's resignation, this number is now down to 66.
If 20 MLAs are disqualified, the party will still have the numbers (46 out of 70) to be in power.
Out of these 46, former water and culture minister Kapil Mishra, Bijwasan MLA Devinder Sehrawat, Timarpur MLA Pankaj Pushkar and former environment minister and Matia Mahal MLA Asim Ahmad Khan are already at loggerheads with the party leadership.
According to sources, the party's decision to appoint Parliamentary Secretaries was a way to ensure that as many MLAs as possible could be given a role in the government while ensuring checks and balances on the ministers and sharing their burden. Trying to shield the MLAs from allegations of holding an office of profit, the government passed an officer order on March 13, 2015, which said that the 21 parliamentary secretaries appointed by it would not be eligible for remuneration or perks of any kind from the government. "However, they may use government transport for official purposes only and office space in the ministers' office would be provided to them to facilitate their work".
In their reply to the Election Commission earlier, MLAs had said that the post of Parliamentary Secretary does not constitute an office of profit as they do not get any benefit from it. The petitioner, Patel, however, contested that since the MLAs have the power to influence decisions because of their posts, it qualifies as an office of profit.
"… These MLAs cannot on any legislative proposal or measure, afford to take a stand contrary to that of their government," Patel's rejoinder, filed after the MLAs' reply was received, stated.
AAP and the MLAs also contended that since the appointment parliamentary secretaries had been quashed by the Delhi High Court in 2016, there was no question of disqualification of MLAs.
"How is it possible to disqualify an MLA for a post that was struck down by the court? It is absurd," said a senior party leader.
Some in the party, however, were anticipating the decision.
"The EC has been combative since the beginning, especially with AAP alleging that EVMs can be tampered with. Many in the senior leadership were not expecting a favourable outcome," said a party insider.
The recommendation comes at a time that the party had started work on its 2019 general election campaign in Delhi. If the 20 are disqualified, the party's attention and resources will both be divided.
"Winning all 20 seats again will not be easy as anti-incumbency will always play a part. The party has done a lot of work but we still have two more years to go, during which more was to be done, as per our manifesto," the leader added.
Added to this is AAP's fight with founder member, Kumar Vishwas over denying him a Rajya Sabha seat earlier this month. Vishwas has been angry with the party leadership for well over a year, alleging dictatorship at decision-making levels. Vishwas has been very vocal with his criticism, with many of his supporters camping at the AAP office in Delhi demanding he be nominated to the Rajya Sabha a few days before the final names were announced.
Mallica Joshi is the Chief Reporter of the Indian Express in Delhi and tweets @mallicajoshi
© IE Online Media Services Pvt Ltd