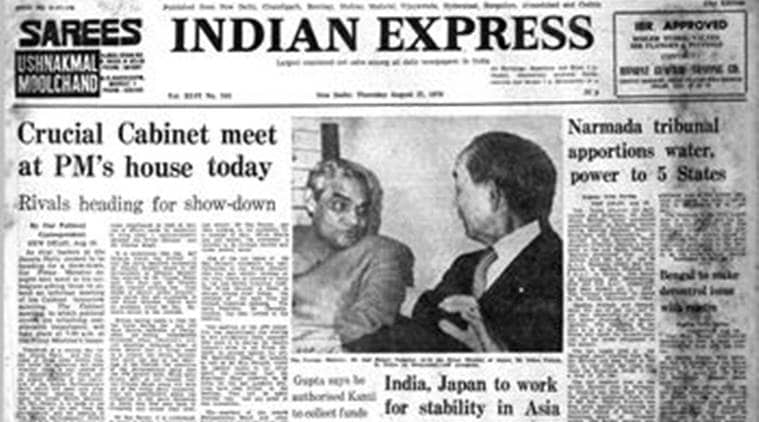 August 17, 1978, Forty Years Ago: Janata crisis

Janata Crisis
AS RIVAL LEADERS in the Janata Party seemed to be heading for a showdown, the prime minister called an informal meeting of his Cabinet at 7:30 am at his house. The outcome of three other events will show whether there is a chance of the party remaining united: An urgent meeting of the executive of the Janata Parliamentary Party; the statement the former health minister, Raj Narain in the Lok Sabha on his exit from the government; and the meeting of the Janata Parliamentary Party's general body.
Narmada Award
THE UNION MINISTER for Agriculture and Irrigation Surjit Singh Barnala announced apportionment of Narmada waters among Madhya Pradesh, Gujarat, Rajasthan and Maharashtra as decided by the Narmada Water Disputes Tribunal. Making a statement in the Lok Sabha, Barnala announced that 18.25 million acre feet out of the 28 maf Narmada waters had been allotted to MP and 9 maf to Gujarat. The shares of Rajasthan and Maharashtra, 0.50 and 0.25 maf respectively, had been worked out in 1972.
Zail Singh Attacked
THE FORMER PUNJAB chief minister, Zail Singh, escaped unhurt but some of his Congress (I) colleagues were injured when they were allegedly attacked by slogan-shouting Akali workers at Sirhind. Zail Singh was returning after addressing a meeting at Issru, in Ludhiana district. His car was damaged, his two suitcases containing Rs 3,500 in cash and clothes and medicines were looted.
India-Japan Talks
INDIA AND JAPAN have agreed to promote bilateral relations and cooperate to reduce tensions and enhance stability in Asia after two days of talks. The two nations issued a statement following consultations between the external affairs minister, A B Vajpayee, and Japanese leaders. Vajpayee praised the Japan-China treaty of peace and friendship.
Must Watch
Vajpayee was an inclusive leader. He let colleagues do their job and critics speak up: Arun Shourie

Independence Day Special: India Of My Dreams

Kerala island worries about floods destroying their link with the mainland

Satyameva Jayate: 5 Reasons To Watch the John Abraham Film