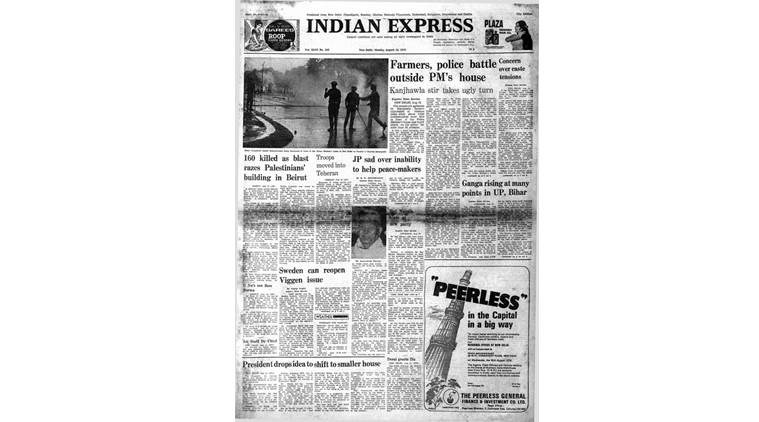 August 14, 1978, Forty Years Ago: 160 killed in Beirut
A POWERFUL BOMB totally destroyed a nine-storey building in the Palestinian quarter of West Beirut killing at least 160 persons in the worst single act of sabotage in Lebanon's troubled history. The head of the PLP, 39-year-old Abdul Abbas said 98 Palestinians were known dead, including 27 of his "highly trained operatives," and 63 were still burried under the smoking rubble of the building.
Janata Splintering?
Raj Narain said that if the Janata Party failed to fulfil the hopes and the aspirations of the people anything might happen in the despair and even a new party might be formed. Talking to newsmen, Raj Narain remained evasive on most of the questions about the future course of his Bharatiya Lok Dal faction. He gave the impression that for some time the fight would be carried on within the party building pressure on the leadership for implementing the "economic policy" of Charan Singh.
Farmers, Cops Clash
The month-old agitation by Kanjhawla farmers culminated in violence when about 5,000 demonstrators went wild in front of the prime minister's house and threw stones on the police for more than 90 minutes. At least a dozen policemen were hurt, two seriously, in a pitched battle in pouring rain. More than 200 rounds of teargas shells were fired. One hundred and sixty persons were arrested.
Iran Riots
Hundreds of troops moved into Teheran to guard against possible disturbances in the wake of rioting in other cities that left at least 12 dead and hundreds wounded. Meanwhile, Abdullah Riazi, Chairman of the Majlis — Iran's lower house of parliament — recalled vacationing deputies to a special session to discuss the situation and to take action on declaration of martial law in several riot-torn cities.
Must Watch
Aishwarya Rai Bachchan Talks About Hollywood, Pay Parity & More

How BJP won the Rajya Sabha election; what this means for Congress

UE Wonderboom waterproof speakers at Rs 6,995, here's the first look

How safe children are in India: News in Numbers