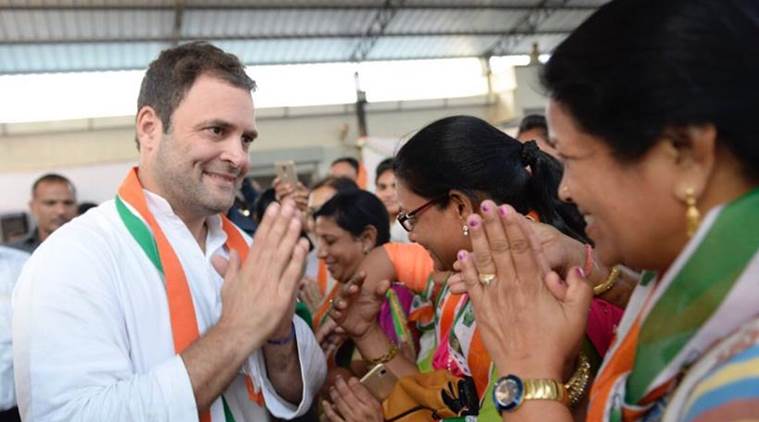 As Rahul Gandhi takes over, Women's Bill on top of agenda
Written by Sushmita Deb
Empowering women in politics and increasing their participation in governance remains a global challenge for us women and the people who lead us. Rahul Gandhi takes over formally as the President of INC today and I have no doubt that his vision for the party includes bringing more women to the forefront of congress politics despite the social and political challenges.
The recent decisions to appoint Ranjit Ranjan, Sadho, Asha Kumari, Varsha Gaikwad, Priyanka Chaturvedi and Divya Spandana in key positions is an indication of his vision to put more women in important positions within the party.
In his first meeting with me as the Mahila Congress President he had very clear vision that Mahila Congress had two primary targets. One was to ensure that Mahila Congress show throw open the doors to women from the grass root specially women who had won panchayat and municipal elections in different states and prepare a pool of women leaders who could play a integral role in strengthening the party. Two, Mahila Congress has to emerge as an important voice on policy issues that impact women and children.
During the Gujarat elections the Mahila congress played an important role in framing the manifesto for women and it was our job to make women activists meet Sam Pitroda and Madhusudan Mistry  in ensuring that the Manifesto reflected the aspirations of the women in Gujarat. I don't know if such kind of engagement and consultation has been done in other states before but the Manifesto committee of Gujarat on his instructions held a brain storming session with many women workers and activists on the issue of women's security, affordable education, housing and access to health care.
I have to admit that several journalists in Gujarat questioned me about the minimal number of women getting tickets from both the congress and BJP. It was a valid question but the role of women in politics is not only in the head count of women contestants but it is also about making our voice count and it did in Gujarat. He met women workers separately before or after every rally telling them that the women of congress have the power to dismantle the chauvinistic politics of the RSS.
I must mention Sonia Gandhi  has played a significant role in pushing the agenda for empowering women. The Food security act gave women the ration cards in their name. It broke the age old tradition of the man putting food on the table. I have rarely known an opposition leader to go on record reiterating her support for the any bill. Her letter to the Prime Minister dated 20 September 2017 is a bold move where she assures the Prime Minister of Congress support to the bill and demands that the bill is passed in the Lok Sabha given Modi's majority.
As she steps down Rahul Gandhi's statement on 13th September at the Mahila Congress workshop that ' reservation for women in Parliament and Vidhan Sabha is a must' is an important statement given that the present government has put that agenda on the back burner despite its brute majority in Lok Sabha.
This bill invokes great ire for various reasons, sharing of seats and power with women is seen as an encroachment by many who dominate the field of politics. Passing The 73rd and 74th amendment to the constitution was an uphill climb and reservation in parliament and Vidhan Sabha will take greater conviction and will. It will take a leader who will have to rise above mere symbolism of beti bachao and garner support across party lines to push this through both the houses.
Empowerment is about many things not just affirmative action it takes determination and resolve of a different kind. The present government till now is seen connecting the dignity of women to a gas cylinder (ie Kitchen) which is actually a gender neutral issue of clean energy. The dole in the name of mandatory maternity leave with pay that too only for the first two children without any financial contribution towards it runs the risk of making women unemployable is a apt example of legislating to appease women without the application of mind.
I need not comment on how heavyweight women ministers in the government have been marginalised despite giving them important portfolios. In a direct contrast to such symbolism Rahul Gandhi  is clear that Affirmative action must not be delayed and he has already begun his concerted efforts to build a bigger pool of women leaders irrespective of the delay.
Sushmita Deb is the head of the Mahila Congress