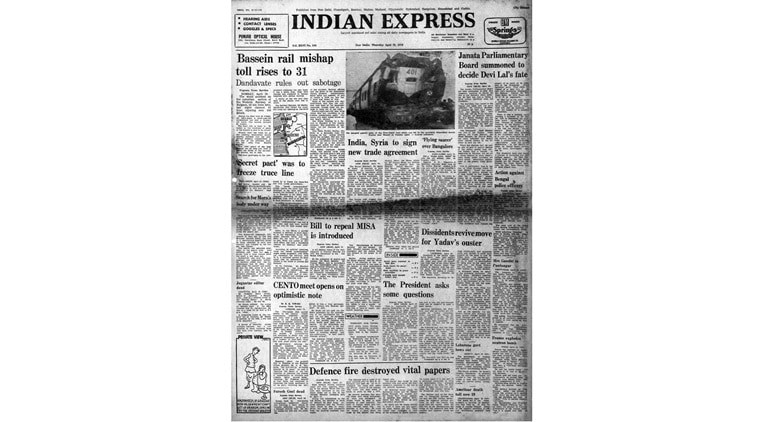 April 20, 1978, Forty Years Ago: Trains Collide In Bombay bay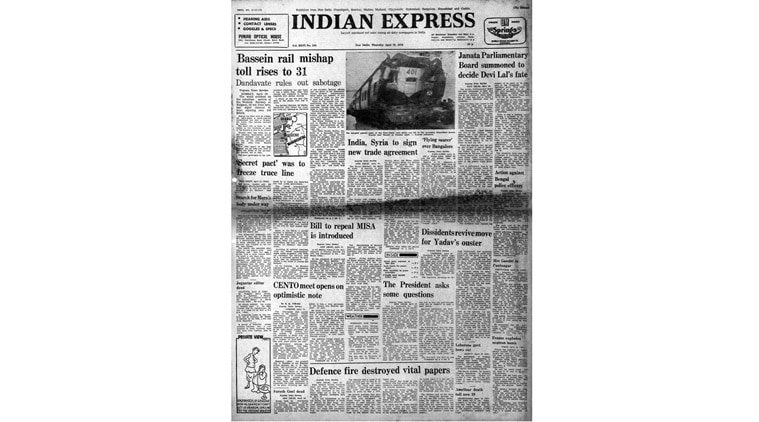 Trains Collide In B'bay
The worst accident on the suburban section of the Western Railway, 50km off Bombay, claimed 31 lives, injuring over 100 others. Among the dead were 28 women, all office-goers, a three-year-old unidentified child and a 19-year-old youth. The injured included 84 women. Women were the worst hit as the speeding Ahmedabad Janata Express rammed into the jam-packed women's compartment at the rear of the suburban local, one km away from Bassein station. The alert guard of the local jumped out on time and tried to signal the driver of the on-rushing express, but in vain. Railway Minister Madhu Dandavate, who visited the crash site, ruled out sabotage as the cause of the accident. Railway officials said the driver of the Ahmedabad Janata probably misinterpreted signal lights and speeded on only to realise a little too late that a train was ahead of him.
MISA Repeal Bill
A bill seeking repeal of the Maintenance of Internal Security Act (MISA) 1971 was introduced in the Lok Sabha. In the statement of objects and reasons, Home Minister Charan Singh said, in accordance with the government policy regarding preventive detention as declared in a statement in Parliament on March 23, the Code of Criminal Procedure (Amendment) Bill 1977 has been withdrawn. Now repeal of MISA was being sought through the bill. The MISA had become the most dreaded measure during the Emergency and the Janata Party had pledged to the people to repeal it.
Simla Agreement
Indira Gandhi and Z A Bhutto agreed at Simla in 1972 that the only solution to Kashmir issue would be to freeze the ceasefire line with minor adjustments. This secret understanding helped resolve the hitch that had developed in the talks and also enabled the inclusion of a reference to Kashmir in the Simla communique. According to the communique, talks were to be held for a final settlement in Kashmir.