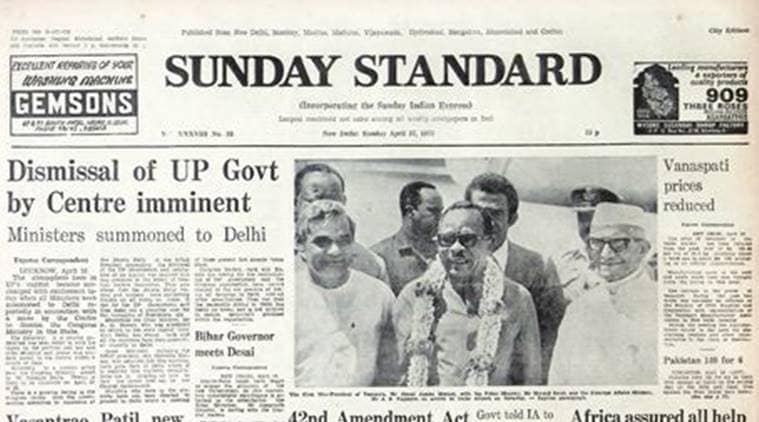 April 17, 1977, Forty Years Ago: Socialists in Congress
Socialists in Congress
A new group named "Congressmen for Socialist Unity" has emerged in the Congress, pledging to restore in the party "the ideal of socialism" which it says is "in real peril". The group, of which H.D. Malaviya, MP, is convener, said in a "declaration" announcing its formation that "the centre of constitutional authority" could not be absolved from its responsibility for the excesses of the Emergency which culminated in "the great Congress election debacle". The declaration expresses the view that "the forced dissolution of the Congress Forum for Socialist Action" was an early expression of the "slide-back" from ideals of the Congress party.
Rajan case followup
The Kerala government has placed under suspension four police officials found by the Kerala High Court to be involved in the Rajan case and launched prosecution proceedings against them. The government has decided to take disciplinary action against officials believed to have furnished false information to the authorities.
Maharashtra CM
Vasantrao Patil is Maharashtra's new CM. The former irrigation minister, who announced his political retirement on his 60th birthday barely six months ago, was elected leader of the Congress Legislature Party.
Bhutto As Target
Two top military men of Pakistan, who claim to have installed Prime Minister Z.A. Bhutto in office after the 1971 crisis over Bangladesh, have charged that the man they once hoped would bring democracy to Pakistan was leading it toward a civil war instead. They are: Air Marshal Abdul Rahim Khan and Lieutenant General Gul Hassan Khan. They resigned a few days ago as ambassadors to Spain and Greece respectively, in protest against the Bhutto government's policies. The two had worked as chiefs of the Pakistan air force and army during the tenure of the disgraced President, General Yahya Khan.